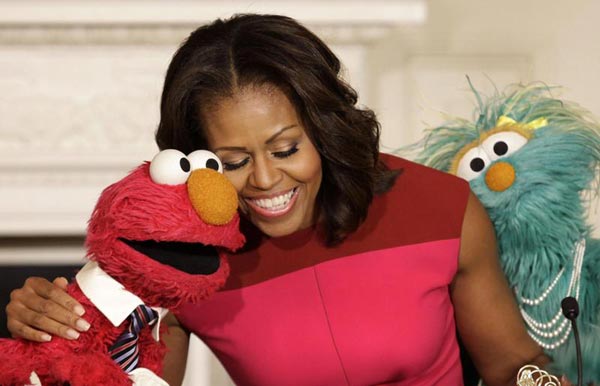 US first lady Michelle Obama hugs PBS Sesame Street characters Elmo and Rosita after delivering remarks on marketing healthier foods to children at the White House in Washington October 30, 2013. [Photo/Agencies]
You don't get to be the longest-running children's show in TV history by doing the same thing over and over. So even though parents who grew up watching Sesame Street can still see old favorites like Big Bird, things on the street have changed since the show debuted 45 years ago on Nov 10, 1969.
Cookie Monster now exercises self-control and sometimes eats fruits and vegetables. Millions of kids watch the show on smartphones and computers instead of TV. And there's less time spent on the street with human characters. They're just not energetic enough for today's viewers.
That Sesame Street still exists at all says a lot. In 1973, it was one of two TV shows for preschoolers. Now it's competing with 84 kids' shows on US television and countless others online. Yet Sesame Street still holds its own, ranking 20th among kids aged 2 to 5, with 850,000 viewers per TV episode, according to Sesame Workshop, the nonprofit behind the show.
Today half the viewers watch it on digital formats. Options include Sesamestreet.org, PBSkids.org, Netflix, Amazon, iTunes and some 50 apps. A Sesame Street YouTube channel has a million subscribers and 1.5 billion views. Touchscreens let kids trace letters or point to colors or shapes, and the app provides positive reinforcement.
Sesame Street also has the highest "co-viewing" experience - meaning adults watching with kids - of any preschool show: 49 percent of Sesame Street viewers are above age 18. "We're very proud of that," says Sesame Street senior vice-president Scott Chambers. "We design the show to engage the parent because we know that's more educational. If you have a parent watching with you, you're going to learn much more."