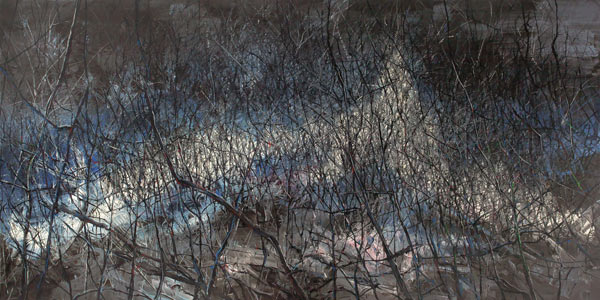 Untitled 06-3, oil painting, by Zeng Fanzhi. [Photo provided to chinadaily.com.cn]
More than 60 pieces of Asian and Western 20th century and contemporary art went under the hammer at global art dealer Christie's 2014 autumn auction in Shanghai on Friday.
Auctioned at the newly opened Christie's auction house on the Bund in Shanghai were pieces by household names such as Picasso and Warhol, but an oil painting by a Chinese artist was sold for the highest price.
Around $132 million worth of art, jewelry and wine went under the hammer in the first sales since the firm opened the auction house on Wednesday.
The pieces on offer included Andy Warhol's 'Flower', which fetched more than $242,000, and Pablo Picasso's 'Tête d'homme', which sold for more than $678,000. Salvador Dali's 'Œil et lèvres' went for more than $143,000, while Marc Chagall's 'Les amoureux dans nuit d'hiver' sold for more than $1.39 million.
The biggest seller though was "Untitled 06-3," an oil painting by Chinese contemporary artist Zeng Fanzhi, which fetched over $3.2 million.
"We had three auctions with about 150 pieces. The transaction rate was 95 percent, which is a pretty good score. The final auction price reached 132 million yuan, which is about $21 million," said Cai Jinqing from Christie's.
Cai said she hoped the opening of the new auction house would allow the auctioneers to have more interactions with Shanghai's art circles.
China led global auction revenues for arts and collectibles in 2012 with about $12 billion, according to the French government's Conseil des Ventes art market report.
But the market has been dogged by a range of problems, including a large-scale Chinese customs probe into tax evasion on art imports that has cooled sentiment. Taxes, regulations, widespread fakes and market manipulation are other risks, experts say.