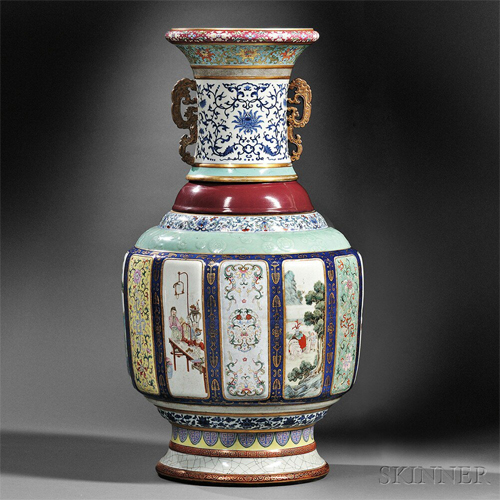 The vase at a Skinner's auction in Boston. [Photo/Skinner]
A Chinese vase from the Qing Dynasty was sold for $24.72 million at a Skinner's auction in Boston on Sept 17, the highest record so far during this year's Skinner Asian Works of Art Auction, topping all sales of Qing Dynasty vases in the US.
The vase is from a New England collection, and was said to be bought by a Chinese buyer. Though it is damaged with some cracks and scratches, and underwent minor repairs in five places, it still received a record high price at auction.
The vase, a monumental 18th century imperial vase, is made of painted enamel and bronze stands. It is said to be a "Cimu" (mother of porcelain) which refers to the large glazed colored vase made during the reign of Qianlong Emperor in China's Qing Dynasty. A "Cimu" is usually made using a dozen glazing techniques, and has to go through many complicated processes during manufacture. Featuring a masterpiece in China's porcelain history. It is impossible to replicate.
"Cimu" pieces are rarely seen around the world. Before the auction, the one in the Palace Museum of Beijing was the only known vase. The vase at auction this time is of the same size and decoration as the one in Beijing.