Actor, singer Chan officially arrested on drug charge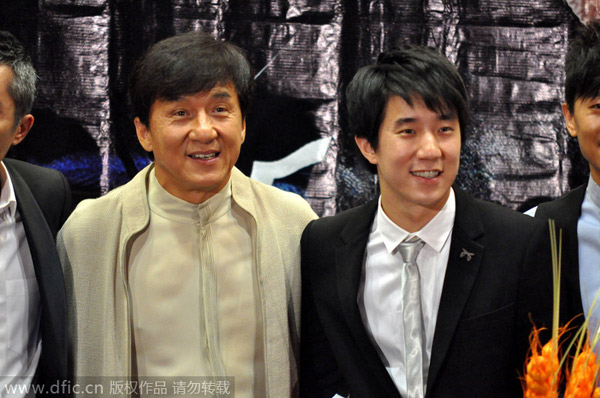 Jackie Chan and his son Jaycee Chan are seen in this file photo taken on June 5, 2012. [Photo/IC]
China's top procuratorate released on its official micro blog account on Wednesday that Hong Kong actor and singer Jaycee Chan, son of kung fu superstar Jackie Chan, was officially arrested on charge of providing venues for drug users. Jaycee Chan, 32, was detained by police in Beijing on Aug 18, together with Kai Ko, a 23-year-old actor from Taiwan, after police confiscated more than 100 grams of marijuana from Chan's home in the capital.
According to the micro blog post, the police of Dongcheng district lodged an application with the district procuratorate to arrest Chan one week ago.
The police continue to investigate the case, the post said.
According to China's law, Chan will be brought to trial by the procuratorate in one Xand half months.
Liu Ling, a lawyer in Beijing, said Chan might be charged with providing venues for drug users and illegally possessing drugs, and could be sentenced to no more than three-years imprisonment, The Mirror, a Beijing-based Chinese-language evening newspaper, reported.
For more gossips, click here