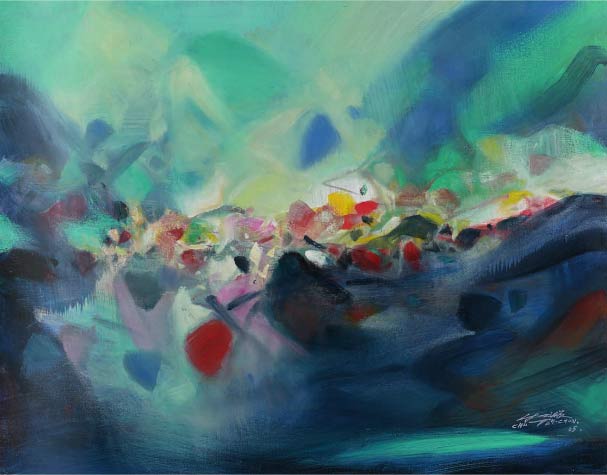 Chemins Faciles, 2005, oil on canvas, by Chu Teh-chun. [Photo/artcurial.com]
A total of 9 paintings of the late Chinese-French abstract masters Zao Wou-ki, Chu Teh-chun, were sold at skyrocketing prices during an auction organized Tuesday by French leading auction house Artcurial, local media reported Wednesday.
Six paintings of Zao Wou-ki were presented during the sale, of which three canvases were sold respectively at 1,489,800 euros ($2,025,678), 1,179,800 euros ($1,604,188) and 411,000 euros ($558,858), while the three paintings of Chu Teh-chun were also put up for auction on Tuesday night, with one canvas named "Chemins faciles" sold at 181,500 euros ($246,796).
According to Karim Hoss, modern and contemporary art consultant of Artcurial, most of these nine works of two Chinese artists proposed by Artcurial were sold at prices exceeding their estimates, which highlighted the dynamism of the market for these artists.
Some 200 works of art, including paintings, sculptures, installations and prints, mainly from private collections, were presented for this Post-War & Contemporary Art sale.
In honor of Asian artists, 12 works of lyrical abstractionists Zao Wou-ki and Chu Teh-chun are included in the auction of Artcurial.
Apart from the 9 pieces sold on Tuesday, the other 3 will be auctioned on June 5.
Founded in 2002, Artcurial confirmed its position as leading French auction house with an annual sale of 178.1 million euros ($242.2) in 2013.