Director Wang charged with hiring prostitutes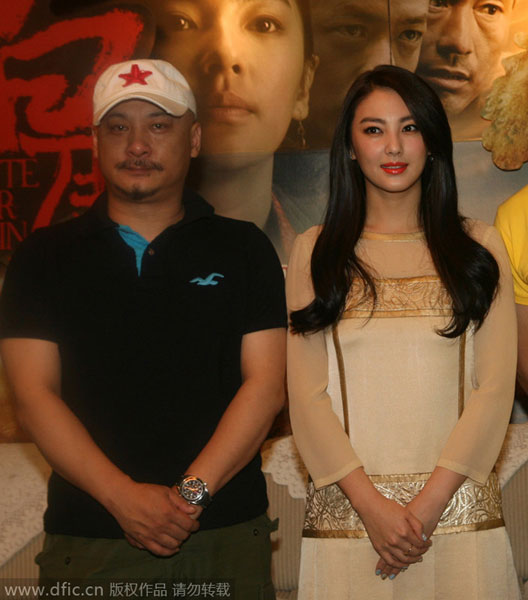 This photo taken on Sept 9, 2014, shows director Wang Quan'an and his wife Zhang Yuqi at the premiere of White Deer Plain. [Photo/IC]
Golden Bear-winning film director Wang Quan'an was detained last week on suspicion of hiring prostitutes, Legal Evening News reported on Monday.
Wang, 48, from Shaanxi province, was caught having sex with a 31-year-old prostitute from Heilongjiang province on Sept 10 in an apartment in Beijing's Dongcheng district, according to the Beijing Public Security Bureau. Both are said to have admitted their guilt.
Prostitution is illegal on the Chinese mainland.
The police said Wang paid for sex on three consecutive days and hired two prostitutes at the same time on one of the days.
The police authority said it has a "zero tolerance" policy toward sex-related offences.
The prostitutes were allegedly supplied by an 18-year-old from Heilongjiang province who was detained and is likely to face criminal charges. Six prostitutes involved in the case were given administrative detention.
Prostitution is punishable by 10 to 15 days' detention and a possible fine of up to 5,000 yuan ($800).
Wang, who graduated from the Beijing Film Academy in 1991, is one of the "Sixth Generation" directors, a group that emerged in the 1990s.
He made his first film, Lunar Eclipse, in 1999 and went on to achieve success on the international festival circuit. He was awarded the Golden Bear at the 2007 Berlin International Film Festival for Tuya's Marriage. This was the third time a Chinese film had been awarded the Berlinale's top award. Wang's latest film, White Deer Plain, produced in 2011, was nominated for the Golden Bear at the 2012 festival. He married Zhang Yuqi, 28, the leading actress in White Deer Plain in 2011.
"I want to thank everyone that cares about me and my family. I have mixed feelings right now," Zhang, who is attending a New York Fashion Week, said on Monday evening on her micro blog.
"The incident violated the public order and I believed the law enforcement department will handle it with justice," she said. "We will frankly face the harm on our family and solve the problem together."