Bigger, Not More Ubiquitous, is Better, Says Hermes CEO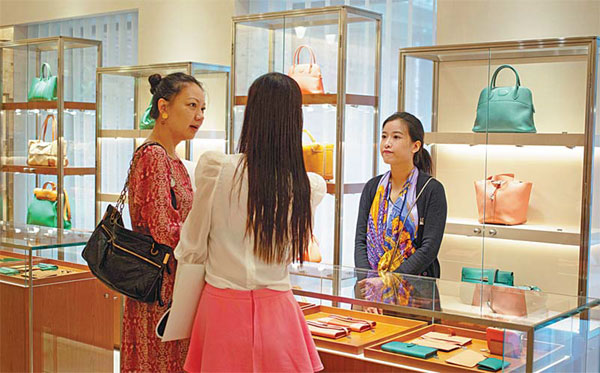 Inside the Hermes' fifth global Maison, situated in Shanghai. [Photo by Gao Erqiang / China Daily]
Luxury retailer hopes the new store will continue its success story in China
Six years after Hermes, Europe's third-largest luxury goods group, broke ground on its fifth global Maison by renovating a heritage building on Huaihai Road in Shanghai, the store opened on Sept 12 amid pomp and pageantry.
A phalanx of security guards and hostesses in black attire welcomed VIPs outside the four-story H-shaped building as limousines cruised up. Inside, about a dozen members of the Hermes family attended the "christening".
The building, which was once a police precinct in the former French Concession, houses 1,174 square meters of sales and exhibition space.
"For us, it's very important that (the Maison) is an aesthetic statement. We believe this historic building is one of a kind," Hermes' CEO Axel Dumas, who took up his post on Jan 1, says.
"Usually a store is like a big box," he said. "But as you can see in our Maison, it's all a bit complicated, from the staircase to everything else."
"And we hope that by the presence of Hermes, it will also develop the environment," Dumas, a former banker and sixth-generation scion of the family-owned French luxury group, adds.
The store was designed by Denis Montel of RDAI and includes a generous range of limited-edition products. Hermes opened its first store in Beijing in 1997 and one in Shanghai in 2001.
Some pundits have questioned whether Hermes, which refuses to ramp up production of its popular Kelly or Birkin bags, will maintain its exclusivity or change its business model to exploit such a vast market.
Hermes hires 200 craftsmen a year and it takes up to five years for them to reach peak productivity, which creates obvious production constraints, Dumas says.
"The second thing we decided in China is that more important than having a certain number of stores is to have bigger stores where we can show all the range of our products," he adds.
"We have a very beautiful store in Hangzhou, for example. We're going to open a great store in Chengdu. And of course there is, for us, the pinnacle: Maison Shanghai."