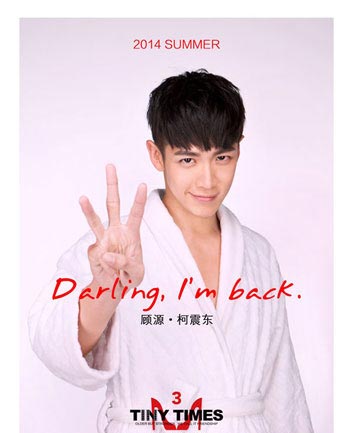 A poster of "Tiny Times 3" featuring Ko Chen-tung, also known as Kai Ko. [Photo/Mtime.com]
"Tiny Times 4" is being re-shot after scenes featuring Taiwan-born actor Ko Chen-tung, also known as Kai Ko, were deleted following his Beijing drug arrest back in July.
Guo Jingming, creator of the successful "Tiny Times" franchise, said that he may have to cut Kai Ko out of the next film after the drug charge came to light.
Ko was arrested along with fellow celebrity Jaycee Chan, son of Hong Kong action star Jackie Chan. The two were detained in the Chinese capital after they were found smoking marijuana at a foot massage parlor.
China's media watchdog has banned mainland TV and production companies from working with celebrities with criminal records.
Aside from the next "Tiny Times," Ko will also reportedly be removed from "Monster Hunt," the live-action debut of Chinese director Raman Hui, who co-helmed "Shrek the Third."
Ko has already lost endorsement deals with Canon, KFC and Quaker Oats, among others.
Related: