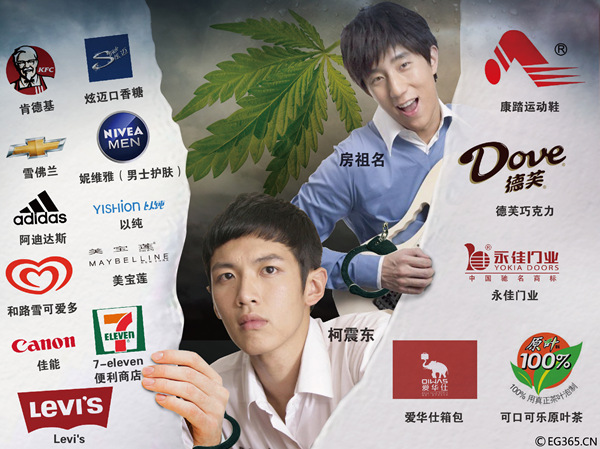 The widely publicized arrest of Kai Ko (L) and Jaycee Chan for drug abuse will likely affect the earnings of the two young actors' commercials and endorsements for products.
Fans of actor Kai Ko, who was recently detained by
Beijing
police for drug abuse, are relieved after his
film
company said scenes featuring him won't be removed from the upcoming
movie
Tiny Times
4.
The film series directed by writer-turned-director Guo Jingming is based on his novel by the same name. The first three installments have grossed more than 1 billion yuan ($162.83 million).
Zhang Zhao, CEO of Le Vision Pictures, which produces the Tiny Times series, told local media that they have no plans to drop the actor and hope the movie will convey the right values. Tiny Times 4 is scheduled to premiere in December.
However, the State Administration of Press, Publication, Film, Radio and Television is rumored to have issued a notice requiring TV stations to remove any commercials featuring Ko, 23, of Taiwan. Several major channels, such as Zhejiang TV, have also reportedly decided not to have Ko as a guest anymore.
A total of 42 agencies for artists signed an anti-drug pact on Aug 13 in Beijing, promising "not to invite drug-abusing artists to attend any events". The pledge was made after several such cases involving celebrities surfaced in the media.
The Ko scandal is likely to affect the box - office earnings of at least two other major films: the Taiwanese romance production A-Choo, which is scheduled to premiere on the Chinese mainland in October, and Monster Hunt, a highly anticipated 3-D fantasy that combines animation and real actors. Ko plays the lead in both films.
The police detained Ko earlier this month after he was found smoking marijuana in an apartment owned by Jaycee Chan, 32, son of kung fu star Jackie Chan. Jaycee Chan was also detained.
Chan's appearance in director Chen Kaige's experimental martial-art-movie Taoist Mountain, which is scheduled for release at the end of the year, is also in question.
The widely publicized arrest of the two young actors has also threatened the products they endorse. Many brands have already pulled out advertisements featuring them. A steamed-bun brand that Chan endorses recently put up a notice outside its Shanghai store saying it is shocked by the actor's behavior and supports the government's zero-tolerance policy toward celebrities who use illegal drugs. The brand is also reported to have begun looking for new stars to endorse their products.
Ko, who rose to fame thanks to the phenomenal success of the Taiwanese romance film You Are the Apple of My Eye, is currently the frontman for around 20 brands, including food, automobile and cosmetic products.
According to news portal Phoenix Entertainment, brands such as Nivea and L'oreal have publicly distanced themselves from Ko, and are in the process of terminating their contracts with him. That could cost the Taiwanese actor at least 50 million yuan each year in terms of endorsement fees, according to National Business News.
Yangtze Evening News quoted Angie Chai, Ko's agent, as saying that her focus is to help the young star get back on his feet.
Ko is scheduled to hold news conferences in Beijing and Taipei to make a formal apology after he is released from detention. "I believe most people are willing to give him a second chance," Chai says.