Zap your way to better skin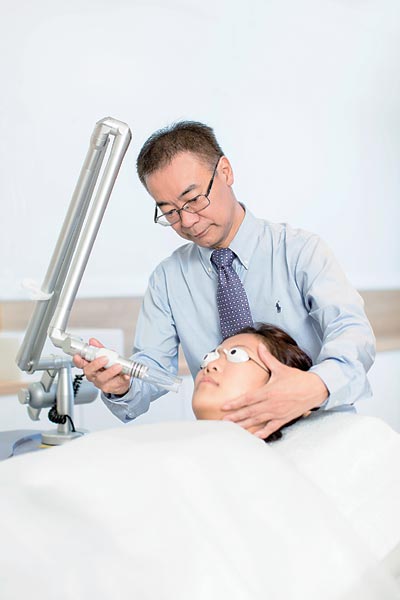 Feeling the power: A patient gets freckles lasered off at the 'skin gym'. Provided to Shanghai Star
Forget pills and potions, the latest in skincare is far more high-tech.
Using lasers to clean your skin may seem like something out of science fiction, but it is already a reality at PPP Laser Clinic, which opened last November in Shanghai.
PPP stands for Pores, Pimples and Pigmentation – all of which can be improved using a combination of lasers and light.
Invented by Dr Goh Seng Heng, a Singaporean dermatologist who has been treating patients with this technique for 30 years, non-ablative laser treatments differ from traditional ablative lasers in that instead of burning off the top layer of skin, it penetrates to the epidermis at a far lower dose and has a lower risk of infection.
After the laser treatment, light is also used to brighten the skin, forming the "Laser Light Combination System" that is PPP's signature.
How does the same treatment work on both acne and pigmentation? "The lasers vaporize the dirt, dust and bacteria in the pores that lead to pimples," explains Marjory Loh, director of sales and marketing for PPP.
"Whereas the selective photothermolysis breaks down the melanin that causes pigmentation."
Selective photothermolysis is the process where specific Melanin wavelengths of light energy are used to target pigmentation.
"We aim to have patients in and out within 15 minutes to accommodate busy lifestyles," explains Loh.
With a certain degree of trepidation, I set out to try it for myself. I lie down and an assistant removes my makeup and sunscreen with damp cotton pads. A doctor takes a look at my skin and determines that I have some acne, acne scarring and some dullness.
As it is my first time receiving any laser treatment, I request that they try it on the back of my hand first. A small shower of red dots dances over my skin, and I feel a faint stinging, prickling sensation that startles me at first, but I am assured that it is very safe.
A shower cap is placed over my hair and a pair of dark safety goggles over my eyes, and the laser treatment begins. The same faint stinging, prickling sensation is felt over my forehead, cheeks and chin, then concentrated on my one emerging pimple that has been bothering me the last couple of days.