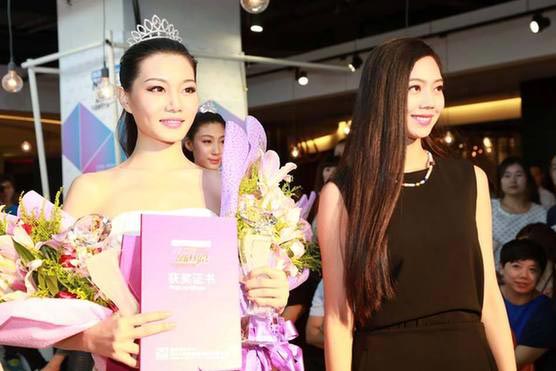 The 19-year old constant Lang Zhennan wins both the champion and "the Best Figure" award in the 22nd New Silk Model Contest Beijing Division on Aug 16, 2014. She poses a picture with one of the judges who was a former Silk Road Model Contest winner. [Photo/CRI]
The 22nd New Silk Road Model Contest wrapped up its division in Beijing at the Galeries Lafayette on Saturday afternoon, with 7 awards generated.
The one-hour intense final was divided into four sessions, in which the 30 participants demonstrated their figure, personal quality and stage performance skills.
As an initial regional contest, the Beijing pageant also offered a special award to one outstanding contestant. Prizes include a trip to Taiwan.
Regional contests are due to conclude in one month across 15 Chinese cities such as Beijing, Shanghai and Chengdu. Contestants will compete for 30 places in the national final, scheduled in November.
For the first time this year, the 30 top players will shoot a 7-episode reality show together, which will be screened on Chongqing Television from October.
Known as the cradle of Chinese supermodels, the New Silk Road Model Contest was first launched in 1989.
So far, the pageant has brought out a list of famous supermodels, including Qu Ying, Hu Bing, Du Juan and Zhang Zilin.