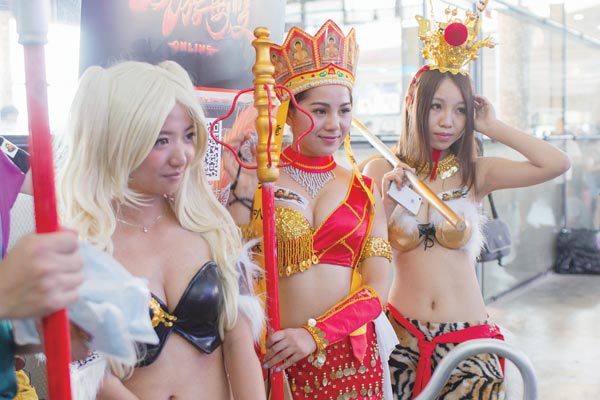 Animate and imitate: As games developed by Chinese companies grow in popularity, characters with extinctive tints of Chinese culture are building a stronger following. Gao Erqiang / Shanghai Star
It was a showcase for both sexes at China's annual animation fiesta, China Joy. A gathering of mainly men and boys, it seemed like an excellent opportunity for the single women to find a date. Only, they had stiff competition, as Shi Jing finds out.
It seemed as if endless streams of eager young men were flooding the halls at the annual pageant for the Chinese gaming industry. China Joy is like a catwalk for bachelors, to the eyes of some young ladies still looking for their perfect match.
Unfortunately, they may just be looking at the wrong place.
Yes, there were plenty of hot-blooded males, but their eyes were firmly fixed on their favorite gaming consoles. Occasionally, they were distracted by the girls at the show paid to dress up as characters from the virtual world they are so familiar with.
Or, they may be too busy playing dress-up themselves.
It's not just the guys who are attracted to the show girls. Even teenaged girls can get very excited about getting up close and personal with their favorite console characters.
On the first day of China Joy (2014 China Digital Entertainment Expo & Conference) this year, hundreds lined up outside the Shanghai New International Expo Center at 8:30 in the morning, half an hour before the exhibition started.
Zeng Yu, a 15-year-old who has just started senior high school in Shanghai, says she spent almost all morning trying to get in. Once in, she headed straight to the Seasun Entertainment booth holding up a light board lit up with her idol's name Cao Anna, a well-known showgirl. When she reached the booth, she squeezed into the throng shouting "Cao Anna".
China Joy is the biggest event for the Chinese gaming industry, with an estimated quarter of a million people attending the four-day event. Besides being an opportunity for the gaming companies to introduce their latest games, it has also become a carnival for cosplay characters on and off stage.