Topshop and Miss Selfridge brands to go online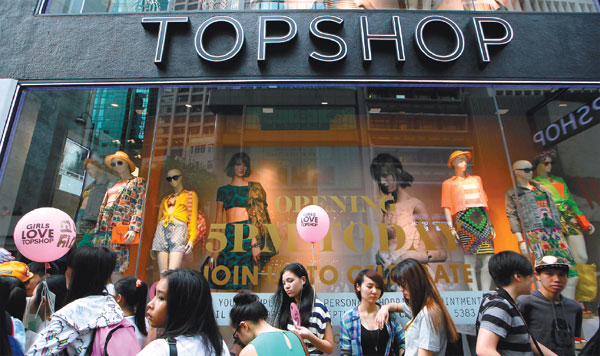 A Topshop store in Hong Kong. The UK-based Arcadia Group Ltd is going to launch its British high-street Topshop and Miss Selfridge product lines in China next month at fashion retail website ShangPin.com. The group recognizes both the upfront cost and time to build a physical store in the country, so it is seeking to attract Chinese customers with an e-commerce approach. Kin Cheung / AP
UK-based Arcadia Group Ltd is going to launch its British high-street Topshop and Miss Selfridge product lines in China next month at fashion retail website ShangPin.com.
Arcadia Group recognizes both the upfront cost and time to build a physical store in China, so it is seeking to attract Chinese customers with an e-commerce approach.
"As we continue to grow our global expansion, this will be a step forward using the power of China's online reach and therefore selling into one of the world's most exciting consumer markets,"said Philip Green, chief executive of the Arcadia Group, the parent company of Topshop, according to the report by the Financial Times.
The online retail market in China has become sophisticated. Compared with their US peers, Chinese consumers are far more active in online transactions, with 71 percent of Chinese consumers buying merchandise online from their smartphones compared with 32 percent of US consumers, according to the PricewaterhouseCoopers Mobile Advertising in China 2014 survey.
"The challenge of brands coming to China is that the country has an established market and shoppers display mature shopping behavior. The online business model is cost-effective,"said Colin Light, digital consulting leader at PwC China.
"The retail strategy is less about avoiding competition than reading consumer behavior in a targeted way. Brands need to seek approaches that are different from the traditional retail footprint to reach out to consumers,"Light said.
ShangPin.com, founded in 2010, is the largest luxury online shopping platform in China. It is an approved online retailer for designer collections such as Hermes, Chanel and contemporary fashion brands, including Michael Kors and Victoria's Secret.
The website boasts 5 million users and gives access to customers in second- and third- tier cities, where many international luxury brands have yet to open stores.
"Different to European and US markets, China's online shopping behavior is mature, and this goes beyond tier-one cities,"Light said. "Traditionally, people think the online shopping demographic is younger and metropolitan but in China this isn't true. It covers a wide age group and is not limited to the major cities."
Online and social channels have become a distinct route for global retailers coming late to the China market.
"A niche market has developed for trendy brands and luxury brands. It's rational for retailers to discover a new market by e-commerce,"said Liu Menglei, an analyst at domestic research company Analysys International. "Chinese consumers have a strong brand preference when it comes to trendy and luxury products."
Meng Jing contributed to this story.