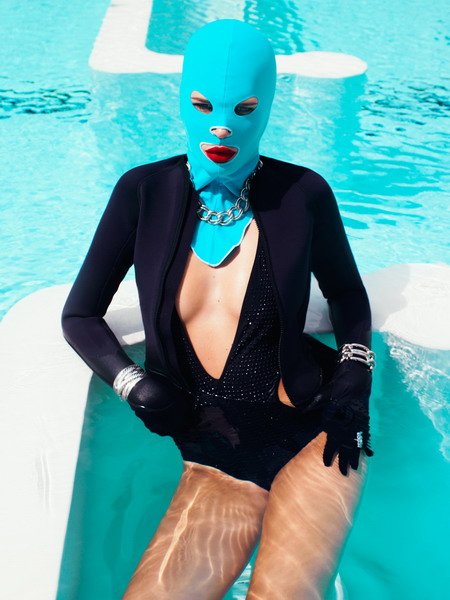 A model wears a "facekini" during a photo shoot. [Photo/CR Fashion]
With pictures of elegant models sporting "facekinis" attracting global attention, photographer Alexandra Utzmann of CR Fashion Book told China Daily in an exclusive interview how she was inspired by the middle-aged women of China.
"My sister-in-law, Melanie Huynh, also the stylist of our magazine, was the first one to tell me about these masks worn on Chinese beaches and sent me some pictures," Utzmann recalled.
"I thought the masks were very unique and colorful, so together we built a story around the idea."
After getting some masks from China, Huynh also invented the word facekini to describe the new fashion. Now the pictures and the phrase have created a sensation on the Internet.
In Utzmann's pictures, the masks resemble those worn by anti-terrorist SWAT teams, but are more colorful.
In the photos, the facekinis work perfectly with fashions from such couture houses as Gucci, Alexander Wang and Emporio Armani, though the same masks can be found on e-commerce website Taobao.com for only 30 yuan ($4.88).
"Our clients liked the pictures, they said the shoot was very impressive, and some of those brands will re-use the pictures," said Utzmann.
When told that the masks scared some kids on the beach so badly that they burst into tears, Utzmann laughed.