Celebrity designs now on sale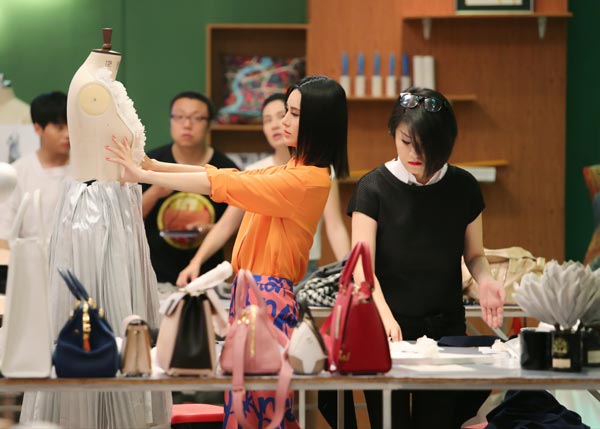 TV celebrities including Chinese actress Michelle Ye, singer Shang Wenjie (pictured), Korean pop star Nana, Chinese actresses Mo Xiaoqi and Alyssa Chia design clothes in a reality show. They will model their designs in runway shows to win orders from shop owners at tmall.com, where the designs will hit the shelves immediately after each episode is aired. Photos Provided to China Daily
Chinese audiences will get to buy inexpensive clothing designed by celebrities on a new reality TV show that seeks to promote fashion and beauty. Han Bingbin reports.
Chinese TV stations have long believed that the bulk of their viewership was people past their prime with little income, a segment fashion shows were rarely willing to touch.
But all that might change with The Goddess' New Dress, a reality show that seeks to celebrate fashion and beauty. The show recently announced its landing on Shanghai-based Dragon TV where it will premiere on Aug 23.
The program, which will also run on online platforms Youku and Tudou, owes its origin to similar shows in the West, while betting its success on China's Internet craze.
In each episode, six female celebrities will make clothes under given themes with the help of professional designers. They will then model those clothes at a final runway show to win orders from shop owners at tmall.com, one of China's largest e-commerce sites.
"Our rule is that all designs should be practical and priced under 500 yuan ($81). I can imagine the excitement the audience will feel when they see clothes that they can wear on models too," says Li Hongshan, chief brand officer of Guangzhou-based media company Blue Flame, that is producing the show.
The handpicked designs will be immediately put into mass production. Within 24 hours of airing an episode, the new dresses will hit online stores nationwide, according to him. "We want to draw back young audiences who now spend most of their time online."