Bringing it back home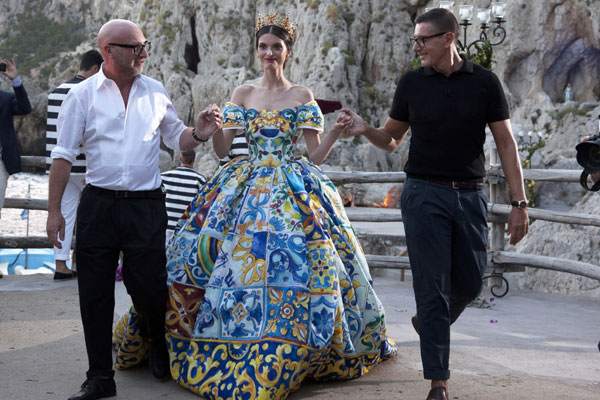 Designer duo Domenico Dolce (left) and Stefano Gabbana (right) presents their haute couture 2014 fall collection in Capri, Italy.[Photo provided to China Daily]
Dolce and Gabbana show their haute-couture collection in their native Italy, and as Chen Jie discovers in Capri, the designers know plenty about high glamour and living la dolce vita.
Capri, the Mediterranean island off southern Italy, is famed as a romantic resort, where royals, film and fashion icons fell in love, making their exploits part of this beautiful place's history.
Elizabeth Taylor enjoyed a vacation with Richard Burton on Capri in 1962, before the Hollywood golden couple's affair made global headlines. Jacqueline Kennedy loved Capri pants and always ordered dozens of them during her visits. Rita Hayworth toured the island with her husband. A young Sophia Loren came to Capri for the movie It Started in Naples (1960) with Clark Gable.
The glamour of these famous women, who flocked to the island in the 1950s and 1960s, has inspired Italian design duo Domenico Dolce and Stefano Gabbana to create their haute couture 2014 fall collection.
"We thought about all these women when they would come to the island and how they would dress with the sun, colors and energy of the island," says Gabbana, 52.
Since 2012, Dolce and Gabbana have invited key clients and a handful of media outlets to view their Alta Moda (high fashion) show in Italy, right after the Paris haute couture week ends in July.
"Alta Moda is completely inspired by Italy and its incredibly rich culture. That is why we show only in Italy," says Gabbana as he works in an improvised dressing room on the terrace overlooking the sea and Faraglioni, the picturesque rocks of Capri.