Huaiyang by the lake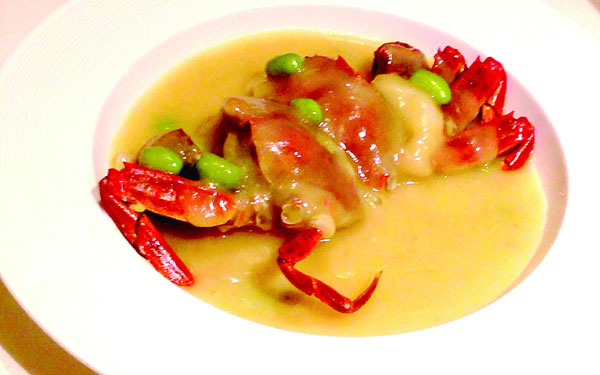 June Crab:Soft-shelled hairy crab dredged in flour to seal in the flavors.[Pauline D.Loh/Shanghai Star]
Jiangnan, the scenic water-town districts south of the Yangtze River, was the playground of poets and princes including the Qing emperor Qianlong. That imperial presence had left its mark on the region's folk cuisine, as Pauline D. Loh discovers in Yangcheng Lake.
It sounded like "dirty noodles". "Aozhao" means untidy, chaotic and dirty in my native Cantonese dialect, I told the young lady who was introducing the dish at Fairmont Yangcheng Lake's Yifeng Court.
She laughs and puts me right.
"Ao" means "amazing", she says, and "zhao" simply means "stove", and the story behind this staple dish has some right royal origins.
It seems the Emperor Qianlong of the Qing Dynasty (AD 1644-1911) got really hungry on one of his forays into the Kunshan region, and there was neither inn nor restaurant nearby. His officials found a farmhouse and had the farmer's wife serve up a bowl of steaming hot noodles.
When he returned to the Forbidden City, Qianlong remembered this delicious bowl and had his chief eunuch search out the recipe. The eunuch did locate the farm wife, but she told him there was no recipe.
All she did, she said, was to serve the emperor noodles with left-overs from her last meal.
Horrified, the poor eunuch returned to court. He decided the emperor had to be protected from such plebian crassness and so he concocted this story:
"Your majesty, the noodles you had are from the farmer's "amazing stove", specially created in your honor," he lied. The die was thus cast, and "amazing stove" noodles became a special dish in Kunshan, along with the left-over "amazing stove" duck that was served with the emperor's original bowl.
It is a pretty story, and the noodles are indeed delicious. The chewy thin strands are served in a tasty dark broth, and to go with the bowl, there is a choice of duck or "bao yu", an oil-blasted fish that is crisply fried but tender.