Huaiyang by the lake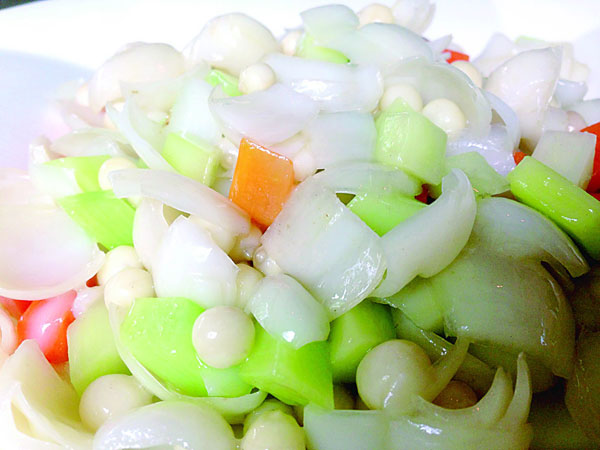 Pearls of fresh foxnuts are stir-fried with sweet lily bulbs and cubes of crisp green celery.[Pauline D.Loh/Shanghai Star]
Occasionally, young green soy beans from the back garden would be dropped in at the last minute for some extra color, and flavor.
As an indicator of what is to come soon, the crabs are but a teaser for the feast that would arrive with the harvest moon. However, true crab fans would still enjoy this appetizer.
What is truly in season are the seeds of the Euryale ferox, the Gorgon plant, more commonly known as foxnuts. Dried, the seeds are called qianshi in Chinese and widely used in soups and tonics.
According to the principles of Traditional Chinese Medicine, foxnuts possess diuretic properties, and excellent for the health of the kidneys and urinary tracts.
Fresh foxnuts, however, are just delicious on their own. They look like huge white pearls and are often simply stir-fried with sweet lily bulbs and crisp celery. They have a slightly chewy and starchy texture and are … addictive.
They are only grown in specially designated areas on Yangchenghu, and their broad speckled water-lily-like leaves are easy to recognize. The flowers, too, resemble water lilies, but the seeds are packed into a pod that resembles a rooster head – hence the Chinese name of jitoumi, or chicken head beads.
Yifeng Court has the advantage of allocation, and it is here that diners can really subscribe to the FLOSS philosophy of eating fresh, local, organic, sustainable and seasonal. And you really do not have to wait until the crab season to visit Yangchenghu.
If you go
Yifeng Court Fairmont Hotel Yangcheng Lake 3668, West Ma'anshan Road, Kunshan.昆山市马鞍山西路3668号
0512-5780-0888 (The nearest rail station is Kunshan Nan, 16 minutes away from Shanghai Hongqiao Station. If you drive, it is about an hour and a half away from Shanghai city center.)