Crab industry feels the pinch in frugal times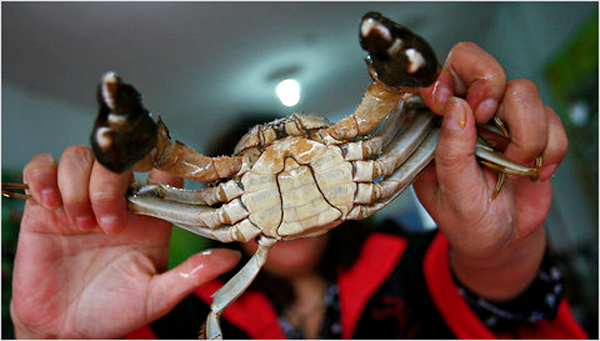 Yangcheng Lake crabs, a luxury delicacy that is bred in East China. [File photo]
Holiday season used to be boom time for gift companies in China, but the country's frugality campaign has meant many have found it tough this time around.
In the eastern city of Suzhou in Jiangsu Province, locals and visitors swarm during Mid-Autumn Festival and the National Day holiday to buy Yangcheng Lake crabs — a luxury delicacy that is a popular holiday gift among government officials.
But crab sellers say customers numbers are down this year.
Zhou Xuelong, owner of a crab breeding company, said revenue is set to drop 10 percent as fewer government departments planned to buy expensive crabs. "In the past, even a government department in a small western city would place an order worth 100,000 yuan (US$16,340). But this year, old customers told me they wouldn't be buying any crabs," said Zhou.
In response, his company has simplified crab packaging, opened online shops, and promoted its products among ordinary citizens in China's second or third-tier cities.
Meanwhile, restaurants in Suzhou are trying to make "crab feasts" affordable to ordinary people by offering versions that use crabs weighing 100 to 150 grams.
In the past, restaurants would offer crabs weighing 250 to 300 grams and crab feasts priced at more than 10,000 yuan.