Sustainable skill in fashion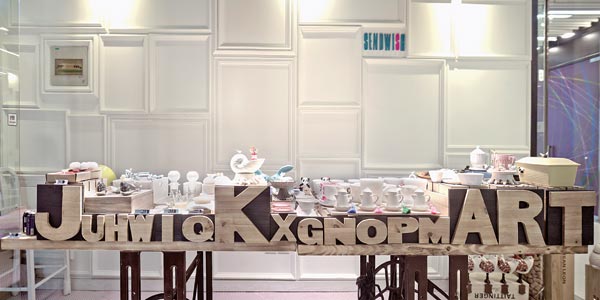 Raring to recycle: Send Wish's showroom is nothing if not creative. Photos provided to Shanghai Star
The fashion industry is notorious in many ways, and it has a reputation for being one of the world's most polluting industries. It is the second-largest consumer of water, and the rise of fast fashion brands has fueled increasing, unsustainable consumerism.
Some key players in the industry have come to recognize this and are taking action.
Shanghai's best-known haute couture designer, Lu Kun, and Spanish creative project manager Joaquín Gay-Liébana Jover are the latest examples.
Their organization, Send Wish, is neither a fashion brand nor a charity.
Lu and Jover have been close friends for years. Jover defines it as "a project that designs and creates socially conscious products, which are not necessary for people's lives but make them better".
Iconic products include scented and non-scented candles, small teddy bears and reusable canvas bags, all of which are made, whenever possible, from renewable resources.
Since it was founded two years ago, the project has worked with a long list of art exhibitions, museums, luxury brands and hotels by customizing products. Topping the list are names like Andaz Hotel, their first client, the Yayoi Kusama exhibition at the Museum of Contemporary Art, and the Trussardi flagship store in Shanghai.
For the four-month-long Monet exhibition at K11 Art Mall, Send Wish produced 5,000 candles, which were sold at the gift shop next to the exhibit hall.
"Everything came straight from the barns," says Jover, referring to the cramped studio he shares with Lu on the weekends.
"The wax is vegetable wax and the wicks are made from either bamboo or coconut. Even the people making the candles are recycled," he jokes, explaining that the project is mostly staffed by employees from his art project team and Lu's haute couture designing team.