Fry up,slim down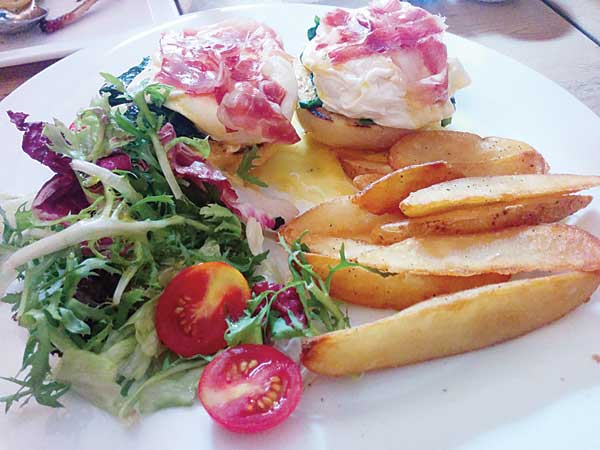 Egg benedict with iberian ham & spinach [Photo by Matt Hodges / Shanghai Star]
You'll go there for the fried breakfast or fish and chips, but it is the egg dishes and British-Continental treats that will make you return for more. Matt Hodges tucks into some light-on-its-feet British cuisine.
Notting Hill British Cuisine takes its cue from the kind of improvements to Britain's culinary image made by the likes of Gordon Ramsay and Jamie Oliver, which means getting all creative and healthy while keeping some of the staples in place.
It is owned and run by five Hong Kong Chinese from various backgrounds, including interior design and food blogs. In many ways they have done to British food what the United States famously does to everyone else's: steal it and make it better.
They have also thrown in their interpretation of dishes from other parts of Europe to thicken the broth. We've-beaten-you-at-your-own-game specials include the rib-eye Sunday roast with Yorkshire pudding and gravy, the red minestrone soup, and the hot chocolate made with generous portions of Cadbury drinking chocolate, a rare but delightful indulgence.
The Spicy Seafood Salad in Lemon Olive Oil is another winner. In England, "spicy" means "more of a twang than black pepper", so Chinese patrons may scoff at the use of the word. The chicken noodle soup has more of a kick, and you can request that the freshly ground pepper corns be served on the side.
"British cuisine isn't boring anymore," says Anthony Ng, one of the owners, who also runs a social media marketing company. "The food in London these days is amazing."
As for the fish and chips, the chef tried three kinds of fish and five batter mixes before settling on its current incarnation, and the hard work shows.
The cod is so succulent and fresh it could have been prepared by a former sushi chef. It is actually made with lots of TLC by Jeff Chan, formerly of the Grand Hyatt in Hong Kong.