Eating local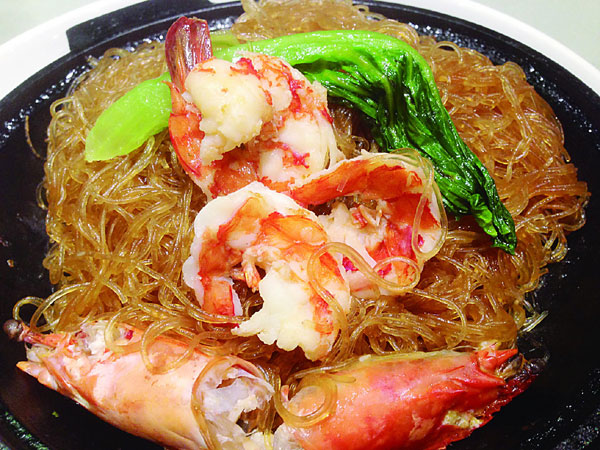 Seemingly simple, the bean vermicelli (right) soaks up all the prawn juices.[Pauline D.Loh/Shanghai Star]
 Jiangnan cuisine, the food south of the Yangtze River, is very much like the ladies here – soft and natural, with an elegance born of the essence of air and water. No wonder then that local gourmets are so fiercely protective of this culinary heritage. Pauline D. Loh treads carefully between the high food and low food found in the region.
Yangzhou Fandian
Shanghai This restaurant is an old Shanghai establishment founded years ago by three chef brothers from Yangzhou.
Over time in its adopted home, the kitchen has kept close to its roots, offering classic Huaiyang cuisine with shades of its Yangzhou origins surfacing in the details.
Take the classic lion's head meatball, for example. There are two versions on the menu — the usual deep-fried and braised mini-soccer-sized meatball that is characteristic of the Shanghainese love of "rich fat and red sauce", and a steamed tennis-ball sized meatball that sits in a bowl of clear broth, garnished with a single strand of Shanghai green.
The smaller lion's head is very typical of Yangzhou flavors, being lighter, clearer and unadulterated by coloring or sauce. Because of its purity of flavors, the quality of ingredients is immediately obvious to the diner, and our meatball and its broth passed with flying colors.
Eel is a favorite ingredient of the Jiangzhe Suzhou region, and one of the signature dishes at Yangzhou Fandian is the xiangbao shanhu, or stir-fried eel in sizzling oil. Here, the Shanghai influence shines through.
Fillets of the local river eels are boned and portioned and cooked in a deep, rich sauce flavored with yellow wine, sugar and soy. Every spoonful fills the mouth with an explosion of tastes that will have you beckoning for a bowl of steamed rice.
The slightly peppery sweet and savory eel is a menu favorite, judging from the empty platters we saw on almost every table near us.
Another chef's recommendation is the glass noodles with prawns, in which a few large shelled shrimps sit on top of stir-fried mung bean vermicelli. It looks simple enough until you realize that the noodles serve as a sponge, soaking up all the pan juices released by the prawns as they cook.
Yangzhou Fandian offers all the usual suspects on a Huaiyang menu, including the soup dumpling that has baffled so many foreign diners. How do you manage to wrap dumpling dough around a bowl of soup? Stay tuned, we'll tell you in another column soon.
This is good food at pretty affordable prices, and you can expect to spend less than 100 yuan per diner, with soft drinks and local beer.