Meat and wine meet in a prime location for pairing dinners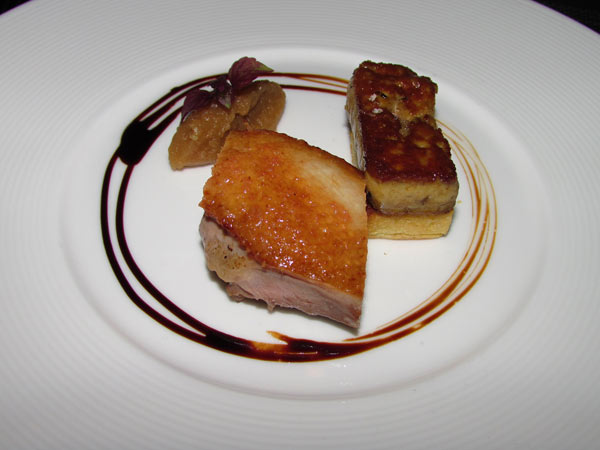 The seared duck breast and foie gras with confit apple and balsamic reduction is rich in flavor. [Photo by Donna Mah/For China Daily]
Wine with food. It's something that people look forward to - it's more about the company and the conversation that such dinners stimulate than just the food and wine for me.
In a shiny new commercial building on Tang Lung Street that had a little less bustle than some of the main streets of Causeway Bay, Wooloomooloo Prime offers such pairings. The food is Australian and the wine is Penfolds, a popular Australian wine brand in Hong Kong found at many outlets. There is also a gorgeous 270-degree view of the city from the restaurant.
The meal starts with an amuse bouche and continues with six more courses. The amuse bouche on the evening we dined there was ceviche tiger prawns, avruga caviar, pesto mayonnaise and a potato chip. The avruga caviar drew the strongest reactions.
Avruga caviar is a smoky-flavored alternative to caviar made with herring roe. Some found it to be too fishy, some loved it and yet others found the texture to be on the mushy side.
The seared Hokkaido scallop and tuna tataki with avocado salsa was paired with an iconic wine from Penfolds, the Bin 144 Yattarna Chardonnay 2009. The large, meaty scallop was served rare in the middle and had the delicious sweetness of fresh seafood. The soft tuna tataki was liberally coated in ground black pepper and was on the spicy side. The chardonnay is an award-winning wine and considered one of Australia's best.