Chinese toast wine tourism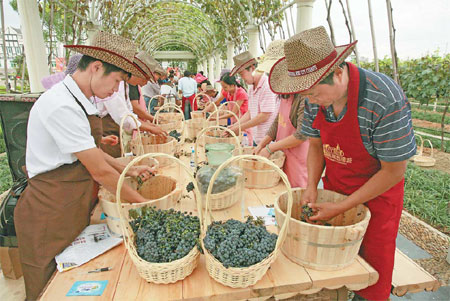 Visitors sort grapes in Yantai Changyu Pioneer Wine Co Ltd's garden in Shandong province. Ju Chuanjiang / China Daily
Countries are working to lure a bigger chunk of the growing number of winery visitors from the world's second-largest economy. Belle Taylor and Xu Lin report.
The most successful type of agricultural tourism is wineries, which have been opening their cellar doors for years to wine lovers and tourists.
Wineries are a major part of the tourism offerings in Europe, the United States, South America, Australia and New Zealand, and are increasingly catering to the Chinese market, which is a growing force in the global wine trade.
"We recognize in Australia that the Chinese market is going to make a difference down the track, and we pitch to the Chinese," says Amy Burch, general manager of Burch Family Wines in Western Australia.
Burch Family Wines are behind the well-known labels Madfish and Howard Park, among others. They are based in the Margaret River region, an upmarket tourist hotspot that caters little to non-English speakers.
Burch is aiming to change that with the opening of a specialist wine-tasting facility next month, specifically for Chinese tourists. She says the facilities' emphasis on China enabled her to get a grant from the Australian government to help her build.
"The federal government has pitched in toward re-invigorating tourism with tourism providers like myself to ensure that we can work something out specially for the China market," Burch says.
The new facility will offer written material in Chinese and will give a multimedia presentation in Putonghua.