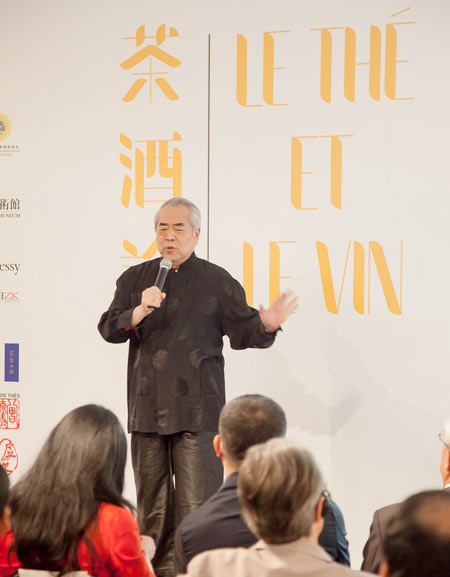 Famous Chinese artist Fan Zeng speaks at the  "Dialogue between tea and wine" event in Beijing, May 18, 2014. [Photo provided to chinadaily.com.cn]
Tea and wine are not only common drinks in our daily life, but rather symbols representing two kinds of cultures. China, as the cradle of tea, and France, which produces the world's best wine, are both proud of their own unique cultural characteristics.
During Chinese President Xi Jinping's state visit to Europe earlier this year, Xi stressed the importance of cultural ties and said, "The introversion of tea and ardency of wine represent two different ways of tasting life and interpreting the world."
The "Dialogue between tea and wine" event, generated among a series of activities celebrating the 50th anniversary of Sino-French ties, has no doubt grasped the very cultural essence of the two civilizations.
The event, initiated by Beijing Yishu 8, the former Sino-French University, has dedicated to make the cultural communication between China and France more far-reaching by inviting important people to share their knowledge. Let's see what they have said about this topic.
Ma Weidu:
Famous Chinese connoisseur
"Wine, to a great extent, is a medium to examine other people. For example, after drinking wine with a friend, you will probably get to know his personality. While after drinking tea together, your friend will still be mysterious to you."
"A wine glass tempts people by showing its glamorous radiance and tea ware calms your inner heart by restraining itself and makes itself simple."
"A wine glass and teapot bring people different visual perceptions. The former one is transparent, clearly shows itself to others, and always ready to talk. While the latter one is opaque, and is only for personal observation. This makes the two things completely different."
Fan Zeng:
Famous Chinese artist
"There are two big civilizations in the world that are both very confident, or proud of their own cultures. They are France in the West, and China in the East. In respect of tea and wine, the two countries still maintain their full confidence and pride."
"In my view, there is no other country in the world boasting such rich wine culture, and paying so much attention to their coffee and tea culture like China and France. French's coffee has brought up numerous ideologists, while Chinese tea and wine has also created many poets and litterateurs."