Eating local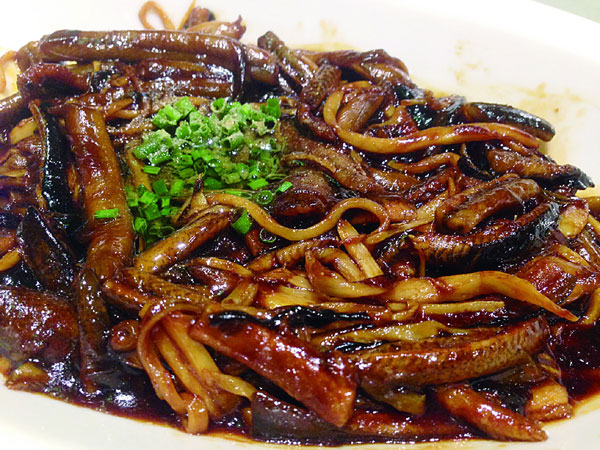 Stir-fried eel in sizzling oil is typical of the local cuisine.[Pauline D.Loh/Shanghai Star]
Cang Lang Ting
Shanghai The noodles are standard issue, but it is what you order with the noodles that make the meal. And what a meal it can be.
Cang Lang Ting has been selling noodles for as long as older Shanghainese can remember. Even as far away as in Beijing, the name conjures up memories of past meals at the noodle shop.
"They used to give out little bamboo chips with numbers written on it," a colleague remembers.
The bamboo chips are long gone. Instead, eager diners line up at the cashier, look up at the menu board and quickly order. You have to be quick because the busy lady behind the counter would be glaring up at you if you hesitate too long.
She will issue you a receipt to hand over to a passing server. No one will show you to a seat and it's best to look around for an available space and sit down, often sharing the table with other noodle slurpers.
This is fast food at its best and there is an unwritten rule that you eat up and clear off so someone else waiting in line gets to sit down with his or her bowl of noodles.
Service is brisk and fuss-free, and no server will hover around introducing herself as your hostess of the day.
The bowls of noodles come unadorned, and your chosen ingredient or jiaotou is served up on a separate plate.
At Cang Lang Ting, the better-known flavors are the spicy meat, the braised eel and the green pepper and tripe. There were just the two of us for lunch so we decided on the eel and tripe. For the more adventurous, there are about 50 other options.
The eel slivers were well seasoned and had the characteristic sweet and savory richness of this Shanghai favorite. Eaten with the noodles, they were the perfect foil to lift the blandness of the staple.
The spouse's green pepper and tripe strips came sizzling hot. The peppers were really fresh and still crisp, but cooked, while the tripe strips, in contrast, were tender but still had a nice bite to them.
Apart from the hot-off-the-stove approach at Cang Lang Ting, it's the humble noodles that deserve special mention. These are thin egg noodles, every strand soaking up the dark broth in the bowl. The portion is generous, too, and a bowl of noodles at about 50 yuan a pop will provide a most satisfying meal.
The shop we ate at is right on the Nanjing East pedestrian mall, and there is a steady procession of customers all day long. The spouse paused to admire the calligraphy on top of the entrance while I concentrated on the bill.
Our noodles had cost us less than 100 yuan.
If you go
Yangzhou Fandian (Restaurant) There are several branches but the one we went to is at: 345, Fujian Lu (M), Huangpu district (near Nanjing East pedestrian mall); 上海黄浦区-南京东路 福建中路345号(近南京东路)
021-6322 5266 Cang Lang Ting Noodles Shop 183, Shanxi Road South, near Nanjing East Road Pedestrian Mall; 山西南路183号,近南京东路步行街