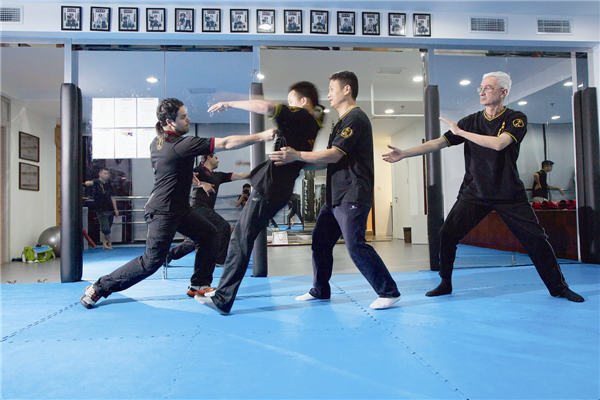 Kleber works the wooden dummy, and teaches chi sau. Photos by Gao erqiang / Shanghai Star
Practical wing chun (咏春)is no monkey business, neither is it inspired by mantis, snake or tiger. This lethal martial art aims to take the opponent out of the game in three moves. Matt Hodges goes for a lesson.
Here is what you won't learn at Kleber Battaglia's Practical Wing Chun Club: How to subdue your enemy while assuming the pose of a crane, or any other character from the Kung Fu Panda movie franchise.
"We don't do animal forms or circus moves," says Battaglia, before he embarks on a technical tirade about pressure points, neural pathways and qigong breathing techniques that would probably make a lot more sense the second time around.
What you will learn is that Robert Downey Jr. studies wing chun, which means "forever spring". The Ironman star gives his tacit blessing from a poster on one of the club's walls.
It will also be drummed into you that if you can't end a fight in three strikes, you were not paying attention in class. There is more complicated stuff to digest, ranging from chi sau, or sticky hands, to mastering the wooden dummy, empty-hands and weapon forms. But you have to pay for that.
This is nuts-and-bolts kung fu — hence the name "practical" — with all the mechanics rationalized and explained, and all the useless, cosmetic stuff razored off. No empty choreography or Mickey Mouse moves here.
"It's very effective. Here, everything has a reason. Cause and effect," says Italian Francesco Veneziano, 62, during his second lesson.
"When I first came I asked, 'Why are they doing all these twirling-hand movements like a geisha?' But now I'm feeling it in my tendons all down my forearm. It's about attack and defense at the same time."