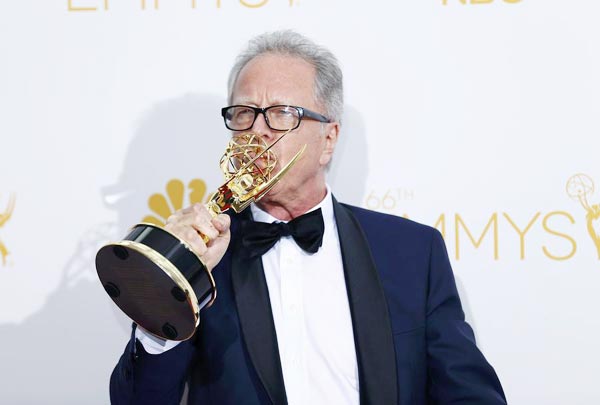 Director Colin Bucksey poses with his Outstanding Directing for a Miniseries, Movie or Dramatic Special Award for FX Networks "Fargo" at the 66th Primetime Emmy Awards in Los Angeles, California August 25, 2014. [Photo/Agencies]
"Fargo," the TV re-imagining of the Coen brothers' cult film, won best miniseries at the Primetime Emmy Awards on Monday, while HBO's "The Normal Heart" earned best TV movie honors for its depiction of the early fight against AIDS.
"Fargo" gave FX Networks its first Emmy for a program, but actors from the critically acclaimed miniseries lost out on awards despite being heavy favorites, especially lead actor Billy Bob Thornton.
"Who else can I thank but Joel and Ethan Coen, who don't watch the Emmys," said "Fargo" creator Noah Hawley of the directors of the 1996 Oscar-winning film who granted him creative freedom to recreate the snowy psychological thriller.
"The Normal Heart" was based on the play by Larry Kramer, who wrote about his own fight against the spread of AIDS as a gay activist in New York City.
"This is for all of the hundreds of thousands of artists who have passed from HIV/AIDS since 1981. Your memory and your passion burns on in us," said Ryan Murphy, director of "The Normal Heart."
Actors Julia Louis-Dreyfus and Jim Parsons were repeat Emmy winners, taking the top comedy acting honors and beating newcomer nominees during television's biggest night.
Louis-Dreyfus won her third consecutive Emmy for her role as the ambitious and foul-mouthed US Vice President Selina Meyer on HBO's political satire "Veep." Parsons won his fourth lead acting Emmy for playing the pedantic nerd Sheldon in CBS comedy "The Big Bang Theory."