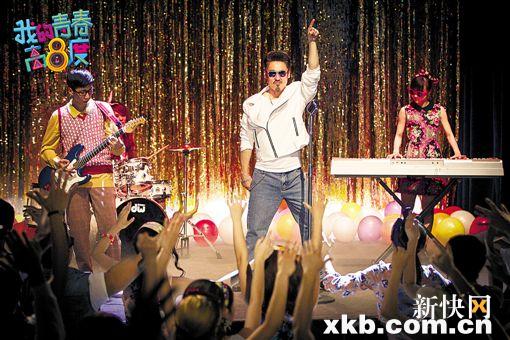 Chinese actor Wu Xiubo (C) plays an optismistic accounting teacher that rescues a choir club on the verge of disbanding in My Youth High Eight Degrees, produced by hit musical reality show Voice of China. [Photo/xkb.com.cn]
Musical drama
My Youth High Eight Degrees
, produced by hit musical reality show
Voice of China
, has been questioned by Internet users for its high resemblance in plot and character settings to Fox's hit drama series,
Glee
.
Led by Chinese actor Wu Xiubo, actress Qu Ying and contestants from Voice of China, Eight Degrees has earned good ratings since its start on Zhejiang Satellite Television two weeks ago.
However, astute fans of American drama series soon discovered an extremely strong resemblance in both the script and characters of Eight Degrees to Fox's Glee.
Sina Weibo user pengpeng87821, who is verified as the editor of News Center at Qionghai Radio and Television Station, wrote: "Isn't this a spinoff of Glee?Not only is plot the same, the characters, conflicts and stories are all so similar. Are there really no good writers in China? Why must we copy others?"
Sina Weibo user Evelyn said: "They have brought the script straight off Glee, but things like that are not likely to happen in Chinese schools."
Canxing, Eight Degrees'producer, said the show is not plagiarizing Glee but worked with the Glee's producers to develop the script.
"The structure of this drama was set through bilateral discussions. There are many similarities in the plot, but our version reflects the pursuit of music by China's youth today."
Eight Degrees is set in a choir club in fictitious Chenxi University. Accounting teacher Xiao Wen (played by Wu Xiubo), an optimist who is passionate about music, takes over the club when it is on the verge of disbanding. Under Xiao's leadership, young, talented singers struggle through countless conflicts in search of their musical dreams.
Glee is an American musical comedy-drama television series that airs on the Fox network. It is set in the fictitious William McKinley High School. The glee club New Directions, competes while its young members deal with romance, sexuality, social issues and learning to work as a team.