Etro's women no victims of fashion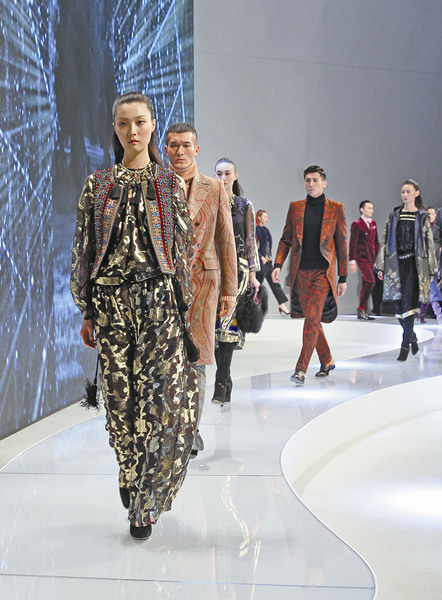 Italian fashion brand Etro holds a show in Beijing to promote more stores across China. Photo provided to China Daily
When Jacopo Etro traveled to Lijiang in southwestern China's Yunnan province some 15 years ago, the city was so underdeveloped that the hotel where he stayed had rain pouring in the lobby through an unrepaired roof.
But the chief creative officer of his family business Etro's leatherwear and home collection considers himself lucky to have seen the area before its raw beauty started to fade.
He spent two weeks visiting various local tribes and was fascinated by their different styles of dressing and the vibrant colors of their clothes. As a result, he returned to Italy with 15 suitcases full of local garments.
That the clothes inspired Jacopo since then is obvious. His brand's upcoming winter collection too bears the original influence.
Having held a major show in Beijing recently and ready to open more stores across China, Etro says he believes that as more Chinese people visit different parts of the globe and "stay open" to various ideas, they will come to appreciate the meaning and lifestyle of a globe-trotter. Etro, by all accounts, is one.
Today, when people think of Etro, one of Italy's more unusual contributions to world fashion, they think of him as someone who embodies the cosmopolitan spirit. Open-minded, art-loving, exotic, sometimes ethnic and at other times bohemian, are all attributes that patrons associate with his brand. The company also often uses these words to describe a woman who wears Etro.
"Exploring the unknown and tolerating the different" is not only an existing brand philosophy but also what started the fashion house in the first place.
When Gimmo Etro, Jacopo's father, founded the brand as a textile company in 1968, he traveled to India from where he brought back the Paisley pattern, an ancient decoration that has since become Etro's main enduring symbol.
The droplet-shaped vegetable motif was born in Mesopotamia where it symbolized the seed of the date palm, the "tree of life". For decades through redesign or being mixed with other elements, Paisley has accomplished its own cycle of life.
"It's unisex but also artsy and cool. If you think (of) the 1960s and 70s, many artists and singers were using Paisley. It's both traditional and modern. It's versatile and can be manipulated," says Veronica Etro, Jacopo's sister and chief creative officer for the womenswear line.
As a graduate of the Central Saint Martins College of Art and Design, Veronica says much of her inspiration comes from art. For example, they have been inviting artists from Japan and India to explore the possibilities of transforming the Paisley pattern while maintaining its original DNA.
"Fashion is not art. It could become art somehow. When it becomes too arty, you take away the ability to wear them," says Jacopo. "I don't believe in fashion that changes every six months, do something and then in six months you throw everything away because it's old."
Veronica says Etro is positioned between fashion and tradition, or what they call the new tradition. She is more interested in creating clothes that last longer and get ahead of the trend not just from season to season but in a "timeless" way.