Summer pickles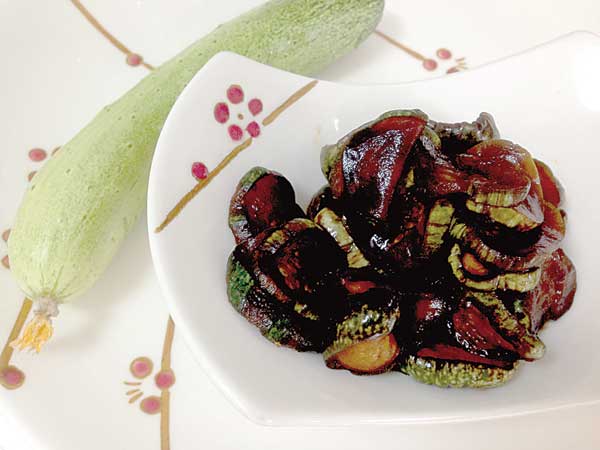 [Photo by Pauline D.Loh]
One of the most prolific vegetables of summer, the cucumber is a cool customer.
It is a necessary ingredient in most salads, whether in Western or Asian cuisines and its high water content makes it a cooling snack even if it's just chilled or cut into crudités.
My favorite is an easy cucumber pickle that is just as delicious with a bowl of rice porridge or stuffed into a mini-hamburger.
You don't even need to learn to cook to make this.
Ingredients:
2 young cucumbers
1 tablespoon salt
2 tablespoons light soya sauce
1 tablespoon dark soya sauce
2 tablespoons light brown sugar, or castor sugar
Method:
1. Wash the cucumber and cut off the top and tail ends. Slice them thickly into rounds and place in a large bowl.
2. Sprinkle the salt over the cucumber liberally and leave aside for an hour.
3. The salt will draw off water from the cucumber, so pour off the salty brine that has accumulated in the bowl, and rinse the cucumber slices.
4. Place the cucumber slices on a large kitchen towel, roll it up and squeeze hard to extract all the moisture.
5. Place cucumber slices in a bowl and add the sauces and sugar. Mix well and macerate overnight in the fridge. Enjoy your saucy cukes and in the unlikely even that you have extras left over, keep them in a mason or jam jar in the fridge.