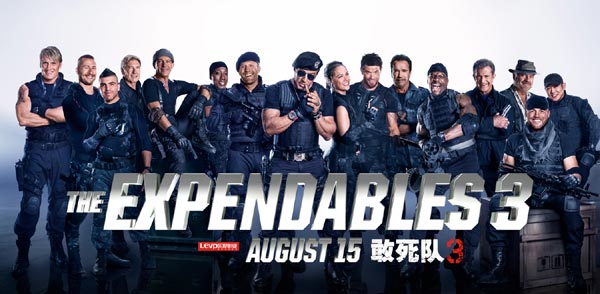 The Expendables 3 features Sylvester Stallone, Jason Statham and Harrison Ford among other Hollywood action stars who are popular with Chinese fans. Provided to China Daily
British actor Jason Statham visits China to lend some of his star power to promotional efforts for his latest film, The Expendables. Wang Kaihao reports on why the movie is expected to do big business at the box office.
For an action movie as big as The Expendables 3 with an all-star cast familiar to Chinese audiences, launching a large-scale promotional tour seems redundant. But when British movie star Jason Statham visited China in July to promote the film that stars Sylvester Stallone, distributers were happy to exploit his star power to further push the action-packed film, which will hit cinemas later this month.
Statham did not need to say much during his short trip to China. The buff star simply had to pose for cameras to prompt screams from his many fans.
"I am a fan of Bruce Lee," Statham said at a news conference in Beijing. "I always been passionate about coming to China."
The previous two installments of The Expendables raked in more than 460 million yuan ($75 million) at the box office in China. The latest, however, is not expected to do as well because a pirated version of the film appeared on the Internet in July. Nevertheless, Chinese distributor Le Vision Pictures remains optimistic.
"This movie has every reason to drag audiences to the cinemas as Transformers: Age of Extinction has done," says Zhang Zhao, CEO of Le Vision Pictures. "You cannot underestimate the power of these old faces in China."
He cites Harrison Ford, who is a new addition to the third episode, as an example. Ford's movie The Fugitive (1994) was the first Hollywood blockbuster to be officially screened on the Chinese mainland.