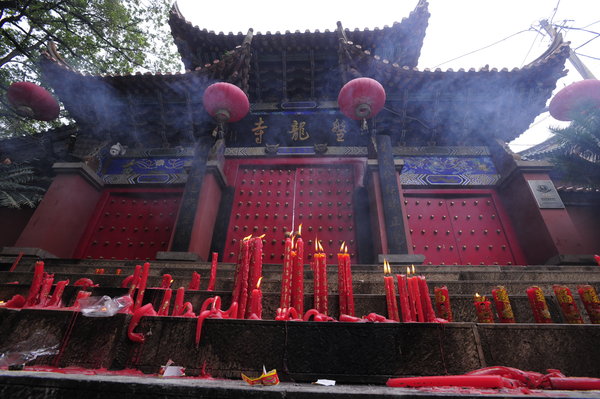 PanlongTemple in Yunnan province closed its doors on Aug 15, 2014 to tourists who just burned incense outside. [Photo/CFP]
A temple in Southwest China's Yunnan province closed its door to tourists on Aug 15 because it rejected the local government's plan to commercialize it. But on Aug 17, local government announced that the temple was reopened after discussion.
On the morning of Aug 15, the gates to the Panlong Temple had been shut and a board placed outside the door read: "Since the county and township governments plan to upgrade the temple, commercialize and corporatize it, which will disrupt the temple's order, the temple has decided today to temporarily shut the gates for a quiet meditation environment. Please understand and forgive us."
The Panlong Temple, one of the three major Buddhist destinations in Yunnan Province, is about 3 kilometers from Jincheng township in Jinning county. Established in 1347, the Panlong Temple attracts many tourists and Buddhists from home and abroad.