Crystal-clear vision of jewelry designers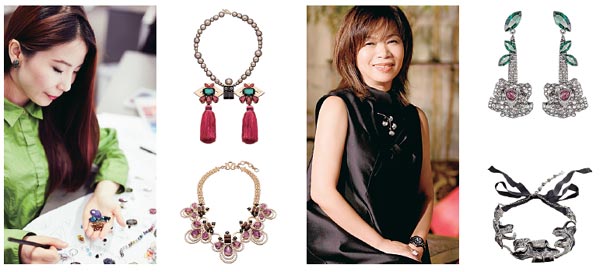 Shining brilliance: The latest designs of Octavia Yang (left) and Shiatzy Chen using Swarovski crystals. Photos provided to Shanghai Star
Diamonds may be a girl's best friend, but crystals are the soul mates of jewelry designers Yang Xiaozi and Wang Chen Tsai-Hsia.
World Jewelry Facets, an initiative of Swarovski, the world's largest crystal jewelry producer, is an annual gathering of designers who partner with the brand. The exhibition of their creative vision was first launched in Shanghai in November 2010, with a gleaming collection of 350 jewelry pieces. Now the event is back where it began this year, after a global tour taking in cities such as Las Vegas, Paris and Hong Kong.
More than 200 pieces from over 70 acclaimed and up-and-coming designers around the world have been brought to the showroom and runway exclusively for fashion buyers, media and VIP members of the brand.
Among the dozens of designers brought to Shanghai together with their dazzling showpieces, or commercial pieces, we talked to the two designers who, while retaining a solid friendship with diamonds, are inspired by the creative possibilities of crystals.