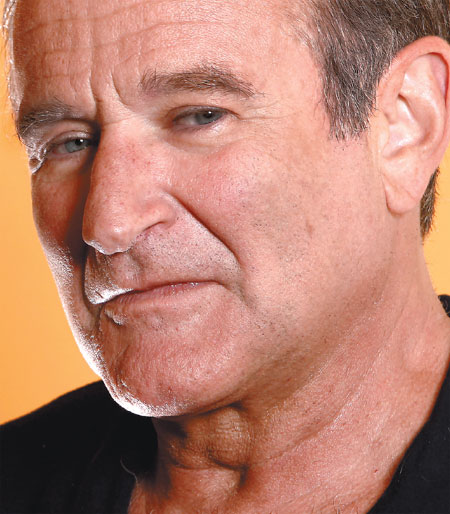 This file photo from 2009 shows actor Robin Williams in Los Angeles. Williams, whose comic genius and acting skills dazzled audiences for decades, died on Monday in an apparent suicide. He was 63. AP
Robin Williams has inspired generations in China with his idealistic roles.
In 1995, a year after Hollywood films were allowed for general release in China, Jumanji was among the earliest advanced technology productions to hit screens nationwide that thrilled local audiences.
It became Robin Williams' first and practically last contact with Chinese filmgoers, other than his supportive role 14 years later in Night at the Museum (2009) as former US president Theodore Roosevelt.
But for the country's die-hard English movie fans, the versatile actor's ties with China are much older.
His role as an unconventional English teacher in Dead Poets Society (1989) is one of the rare film characters to have inspired a generation of "knowledgeable youth" who grew up in a culture of conformity. A line from the film - "poetry, beauty, romance, love, these are what we stay alive for" - is the motto of today's idealistic youngsters as well.
His image as an enlightened mentor to talented students is deeply embedded in the minds of Chinese audiences.
Although his career was often marked by his signature comic genius in box office winners Good Morning, Vietnam (1987) and Mrs. Doubtfire (1991), he endeared himself to Chinese fans by roles that continue to strike a spiritual cord.
Among his best known characters is the empathetic therapist in Good Will Hunting (1997), who somehow finds a way into the inner world of a math prodigy.