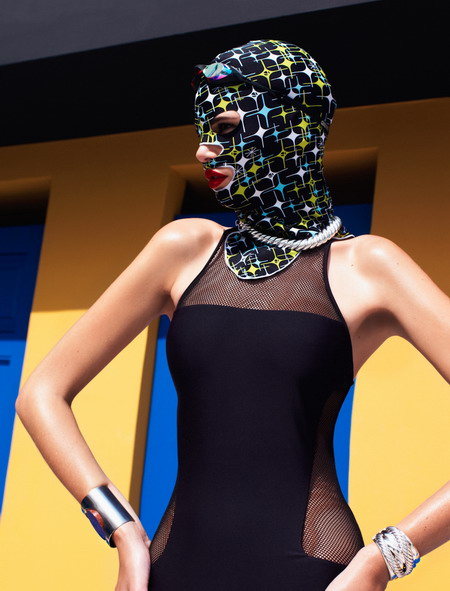 Inspired by Chinese women wearing masks on the beach, a French fashion magazine came up with the design for the "facekini". Alexandra Utzmann/CR Fashion Book
Chinese dama, or middle-aged women, may have inspired a global fashion trend.
CR Fashion Book, a magazine created by Carine Roitfeld, former editor-in-chief of Vogue Paris, released a series of photo shoots this month on the "facekini", a popular item of beach attire in China.
The shoots, titled "Masking in the Sun", are based on the masks Chinese women use on the beach to cover their faces from the sun, revealing only the eyes, nose and mouth.
The photographer of the series, Alexandra Utzmann, said the inspiration for it came from dama wearing the masks in Qingdao, Shandong province.
"My sister-in-law, Melanie Huynh, also the stylist of our magazine, was the first one to tell me about these masks worn on Chinese beaches and sent me some pictures," said Utzmann, adding that the facekini had been popular in France in the 1930s, when French women worshiped pale skin.
An article in the magazine said, "While our summer beauty routines are devoted to bronzing, self-tanning and tan-extending, in Asia, beauty-seekers are more likely to center theirs around lightening and brightening."
Chinese Internet users have been making jokes about the facekini catching the fashion world's attention, saying that Chinese dama have again led global fashion and made headlines.
Chinese dama, a term created by The Wall Street Journal, refers to Chinese middle-aged women who rushed to buy gold as an investment in 2013 when the price plunged.