Designer creates prints that travel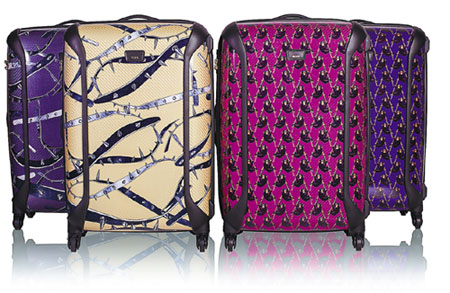 Chinese designer Christine Lau has cooperated with US brand Tumi to present a collection of travel accessories, featuring playful yet elegant prints to appeal to female consumers. Photos Provided to China Daily
Fashion designer Christine Lau has teamed up with international brand Tumi to create a collection of travel accessories in her signature style. She tells Sun Yuanqing why creativity is all about being yourself.
Soft-spoken and wearing an easy smile, Christine Lau, 29, is as approachable as the girl next door, with none of the airs one might expect from a hot young fashion designer. It's hard not to be charmed by her disposition.
Lau, founder of fashion label Chictopia, is known for her retro-meets-modern designs and "whimsical" prints.
She is now looking to push boundaries by collaborating with Tumi, an American brand that sells travel accessories targeted at businesspeople.
The Chictopia for Tumi, designed by Lau, includes Tumi's best-selling carry-on totes, wheeled packing cases and accessories, all featuring fun, circus-themed prints inspired by Philip Astley, the British equestrian master and circus owner who is commonly called the "father of the modern circus".
"I believe that fabric is the key to fashion and I enjoy designing quirky prints for each of my collection. For this collaboration, I created playful yet elegant prints to appeal to independent, trailblazing women who have a passion for fashion and travel," says Lau.
Tom Nelson, managing director in Asia for Tumi, says he considers the partnership "an opportunity to showcase Tumi as more than just a travel brand".
The collaboration was facilitated by Hong Kong-based luxury department store Lane Crawford, which has been selling Chictopia for the past year.
"I love her prints that are humorous. That is what drew me in first. Expressive design and fashion are really in at the moment, and Chictopia is definitely the one," says Sarah Rutson, fashion director of Lane Crawford.
Rutson says the collaboration opens up a different category for Lau and is an opportunity to showcase her talents on a global scale.
The collection will be available at Lane Crawford in Hong Kong and on the Chinese mainland from September, and it will reach Tumi stores there in mid-October.