Cool designs that have fun with water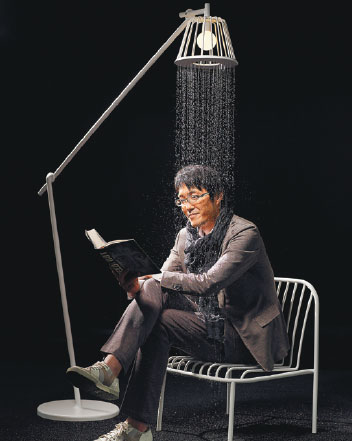 Japanese studio Nendo showers light onto a subject for a touch of comfort in the bathroom. Photos Provided to China Daily
Water is probably one of the biggest sources of pleasure in the summer. With a designer's vision and an expert's know-how, it can either run as a fountain in your bathroom or fall from a lamp in your shower.
Several leading designers recently created interesting experiences with water in collaboration with Axor, the designer brand of Hansgrohe SE, the German sanitary fittings manufacturer.
The products were released at the opening ceremony of Axor's first flagship store in Beijing in July.
The "LampShower", designed by Japanese studio Nendo, adds a touch of comfort in the bathroom by integrating traditional bathroom and living room settings.
Swedish design trio Front creates a series of shower pipes, that draws inspiration from the industrial charm of the water pipes and shows them off in interesting ways.
According to Charlotte von der Lancken, one of the designers of Front, their design wants to bring attention to "the hidden aesthetics of technology", and turn pipes, joints, valves and funnels into charming design objects.
Renowned French designer and architect Philippe Grohe designed a washbasin mixer called Starck V. The mixer has an open transparent spout made of crystal glass that makes the swirling water visible, emphasizing the vitality of water and interaction between water and its user.
"It's like having nature at your fingertips and a fountain in your home," says Grohe, head of Axor.
While the average Chinese consumer is still interested in luxury products, Grohe believes the era of minimalism is not too far away as his interactions with Chinese architects and the design community suggest.
"China is still very luxury-oriented, meaning that the weight of the product is quite important. But it is moving toward a more minimalistic market. If we only do classic products, we would be perfect for yesterday and today. But we would be on the wrong side for tomorrow," Grohe says.
Axor has so far worked with leading designers, including Ronan and Erwan Bouroullec, Antonio Citterio and Jean-Marie Massaud, to develop innovative bathroom products. One collection can take more than three years to finish, which is like "a ping-pong game between the designers and the company", Grohe says.
"I don't believe so much in designers that do everything. I want to find people who have a very strong opinion about something, who challenge us," Grohe says.
"I understand and respect their competence, and they understand we have a competence in water technology. We are ready to invest in order to innovate, not to make another thing that already exists."