Mooncake sales set to go sky high
The traditional autumn delicacy has undergone a makeover as manufacturers look to reach out to health-conscious consumers.
It's a long-standing tradition that Chinese people eat sweet and square mooncakes at family gatherings during the Mid-Autumn Festival. However, thanks to national policy and market demand, nowadays there are very healthy varieties of mooncakes at reasonable prices.
China's catering and food industry has been implementing the central government's regulations advocating frugality since December 2012. In 2013, both prices and overall sales volumes declined, especially in five-star hotels, restaurants and bakeries.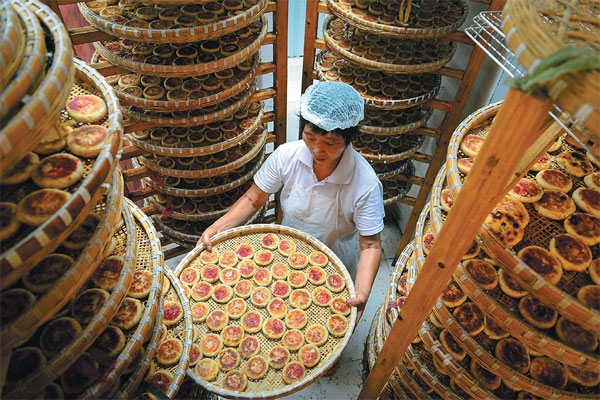 A mooncake factory in Yiwu, Zhejiang. The demand for luxury cakes is weakened this year, due to the government's call on anti-extravagance work style. Lv Bin / For China Daily
In the face of the austerity measures, this year many manufacturers have targeted the general market. To attract more customers, they are promoting a wide range of flavors.
"Customers are into stylish and healthy mooncakes. That's what we are making," says Tian Jing, general manager of the Imperial Palace Restaurant in Beijing.
According to Tian, the products sold at her restaurant have no additives, and all the ingredients - from the fillings to the cooking oil and flour - have been carefully chosen.
The restaurant's most popular items are Chaozhou-style pastry mooncakes, which are handmade by chefs with more than 10 years' experience, and are delicious and fresh, with low levels of fat and sugar.
In addition to the traditional mooncakes with five-kernel or lotus seed paste fillings, the restaurant has introduced fillings made from fruit and vegetables, such as cranberry and white gourd.
"The prices of ingredients and the labor costs have risen, but our retail prices have been reduced slightly to satisfy consumer demand," Tian says. The restaurant has introduced a 199-yuan ($32) mooncake package, consisting of eight pastries, this year.