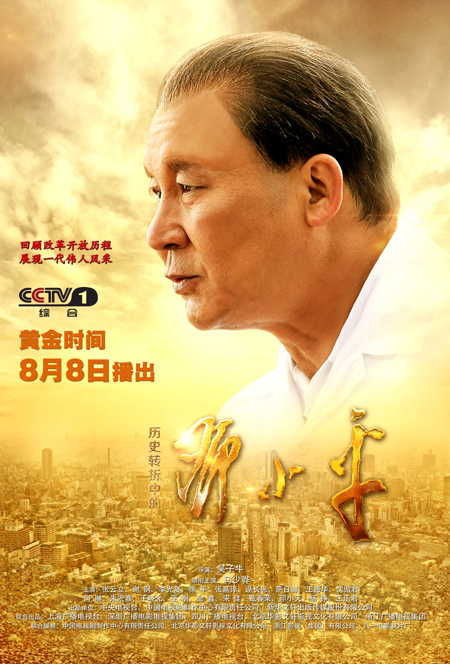 A poster for a TV series commemorating the life of late top leader Deng Xiaoping is pictured on Agu 11, 2014, in Beijing. [Photo/IC]
A host of political twists following the "cultural revolution" (1966-76) are revealed in a TV series commemorating the life of late top leader Deng Xiaoping.
The 48-episode series, which translates roughly as Deng Xiaoping During a Historic Turning Point, began on China Central Television's channel 1 on Friday at 8 pm. Two 45-minute episodes are being shown each night from Monday to Friday. Marking the 110th anniversary of Deng's birth, which falls on Aug 22, the drama tells the story of the former leader and those surrounding him from 1976 to 1984, an important period that defined today's China.
Production of the series was overseen by the Literature Research Office of the Communist Party of China Central Committee and the provincial Party committee in Sichuan, where Deng was born in 1904.
Hua Guofeng, who was handpicked by former chairman Mao Zedong to lead the country after Mao but then resigned his posts in the top leadership in the early 1980s, is played by an actor in the TV series. Hua died in 2008.
Hu Yaobang, former general secretary of the CPC Central Committee in the 1980s, is also depicted by an actor. Hu died in 1989.
The series cost 120 million yuan ($19.4 million) and was a year in the making. Its producers sent more than 10,000 copies to government leaders, researchers and those closely connected to Deng to seek their opinions, said the director, Wu Ziniu.