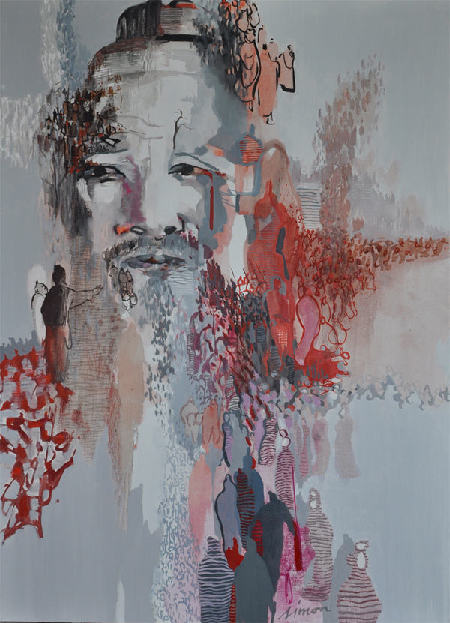 A portrait of ancient poet Li Bai by French artist Jean Yves Simon. Photos by Jiang Dong / China Daily
Expat Lives | Jeanyves Simon
A French artist, who has made Beijing his home, is captivated not only by the city and ordinary people in it but also by ancient Chinese poetry. Deng Zhangyu reports.
The second time French artist Jean Yves Simon met the Chinese woman who was to become his wife, in Paris in 1998, she read him a poem by Li Bai, a well-known ancient Chinese poet. Simon was instantly enchanted, and began his love affair with China, which he describes as, "a love story with a Chinese woman and Chinese poets".
At Simon's studio in Heiqiao, an art zone in Beijing, portraits of ancient Chinese poets such as Li Bai, Du Fu, Bai Juyi and Yang Wanli hang on the walls. In recent years, the oil painter has put more than 40 poets on canvas, placing the writers in landscapes they describe in their poems.
The 53-year-old usually begins his day by reading and reciting ancient Chinese poems, a habit he has continued for years. He has six ancient poetry books.
"Reading poems for me is as common as taking vitamins. These ancient poets are like my old friends. Their faces come to my mind when I paint," says Simon, adding that his favorite poets are Li Bai and Yang Wanli. The latter's poems about rain remind the artist of his hometown Brittany where it rains a lot.