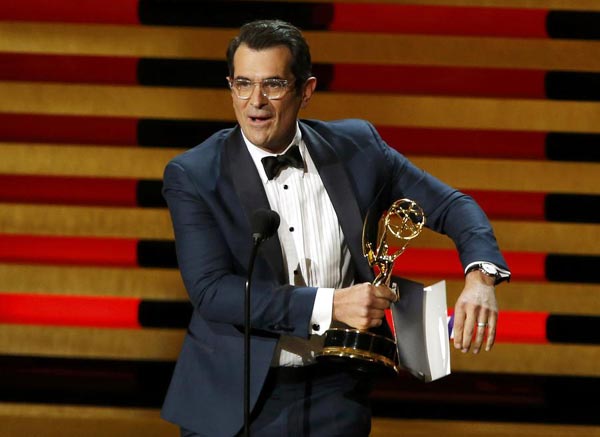 Actor Ty Burrell accepts the award for Outstanding Supporting Actor In A Comedy Series for his role in "Modern Family" onstage during the 66th Primetime Emmy Awards in Los Angeles, California August 25, 2014. [Photo/Agencies]
In a year in which newcomers and cable and streaming company Netflix Inc have dominated the conversation about television's top honors, the big broadcast networks fared well in the awards handed out by the Academy of Television Arts and Sciences.
Ty Burrell won best supporting actor in a comedy for his role as the hapless father Phil Dunphy on ABC's hit show "Modern Family," while Allison Janney won best supporting actress in a comedy as the ditsy mother on the CBS series "Mom."
One of the surprise winners of the night was "Sherlock: His Last Vow" from PBS, which took awards for best actor in a miniseries or movie for Benedict Cumberbatch, best supporting actor for Martin Freeman and best writing in a miniseries or movie.
The evening's host, late-night talk show comedian Seth Meyers opened the show with knocks to the industry about the threat of online-streaming service Netflix to cable networks and the submission of its jailhouse series "Orange Is the New Black" as a comedy rather than a drama.
"We had comedies that make you laugh, and comedies that make you cry. Because they're dramas submitted as comedies," said Meyers in his opening monologue at the Nokia Theatre in downtown Los Angeles.
"Orange Is the New Black," featuring a diverse group of characters in a women's prison, has helped cement Netflix's reputation at a quality producer of original content and will challenge the best comedy series reign of ABC's "Modern Family."