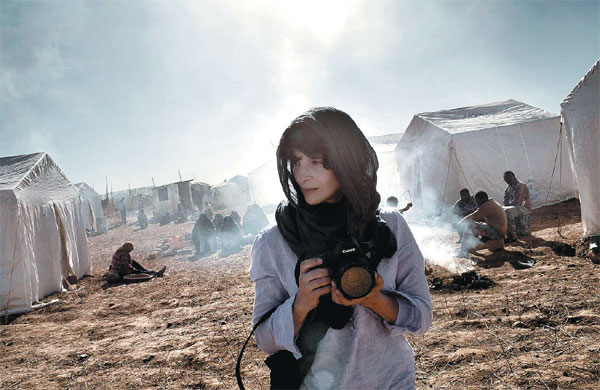 Juliette Binoche on the set of A Thousand Times Good Night. The film is about a photojournalist and her work in Asia and Africa. [Photo provided to China Daily]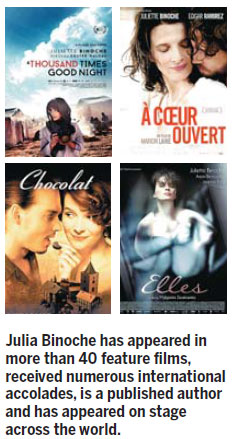 Juliette Binoche chooses only film roles that she believes in, but once she is on board she is utterly committed to finding the heart of her character. For her new film, A Thousand Times Good Night, she immersed herself in the complicated world of the photojournalist.
Juliette Binoche has reached a point in her career, she says, when she wants to choose roles carefully. She has never been afraid to say no, famously turning down Steven Spielberg three times (for Indiana Jones, Jurassic Park and Schindler's List) and walking away from the first Mission: Impossible film because she didn't like the script. For her the director is crucial, but so is the message.
"Most of my political engagement is in my choices," she says, by way of explanation. "You cannot speak out and do demonstrations and then choose films that are not related to that. I choose stories that I feel need to be told."
And so her latest film, A Thousand Times Good Night, opens in Afghanistan, with her character, Rebecca, photographing local women who, we gradually realise, are making ritual preparations for a suicide bombing. As the bomber gets into a van to be driven to her death, Rebecca insists on going along, saying she wants to tell the whole story. In the end, she doesn't get away quickly enough and is badly injured in the blast. When she recovers and returns home to her anxious husband and their two daughters, he says the stress is too much and asks her to choose between her work as a photojournalist, and her family.
It is a powerful, unflinching and ultimately very moving film that informs without being pious, thanks to a plot and cast that totally involves. (Nikolaj Coster-Waldau - best known as Jaime Lannister from Game of Thrones - plays Rebecca's husband; the newcomer Lauryn Canny is utterly convincing as their confused, contrary teenage daughter.) The film is directed by Erik Poppe, who himself worked as a photographer for Reuters and for newspapers in his native Norway before becoming a filmmaker. For further input, he called upon photojournalist friends such as Marcus Bleasdale, who took the on-set pictures shown here, as well as using his own, more recent work in Congo, Kenya, Afghanistan and Pakistan. "I have a wife and child now, which I didn't have when I started in the 80s," Poppe says. "So I brought in my experiences from the last few years to this story."
The dilemma isn't unique to journalists, he adds, it applies equally to medics, aid workers and anyone else who feels compelled to work in dangerous places because they believe they can make a difference. "I wanted to ask how you cope with that, when you have a family. And what price is paid not just by you, but by the people around you."
At first Poppe saw it as a Scandinavian film, but once it became clear that it would be easier to finance if it were in English, he decided to pursue Binoche for the lead. She has never made a secret of her aversion to celebrity gossip, suing French magazines for invading her privacy and gaining a reputation for being evasive in interviews. But she has also long been a vocal supporter of Reporters Without Borders. Along with her support of human rights in countries such as Iran, this seemed to make her a good fit. "I was touched by the story," she says. "Even though the script wasn't totally there yet when I first read it, I felt it was compelling."