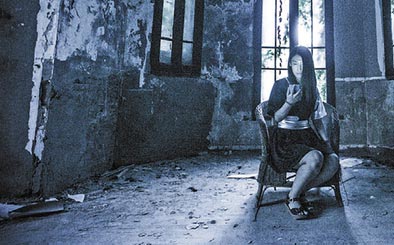 A visitor in one of the "haunted" mansions before they were closed to the public. Song Jiayin / China Daily
Chinese 3-D movie, The House That Never Dies, draws many visitors to 'haunted' mansions in Beijing, leading to sleepless nights among nearby residents. Xu Lin reports.
The House That Never Dies, a 3-D Chinese movie, recently grossed 400 million yuan ($65 million) at the box office. Its success has led to an increase in the number of visitors to the purportedly haunted mansions of Chaonei No 81 in Beijing's Dongcheng district.
Although the movie wasn't shot there, the dilapidated mansions, with creaky wooden staircases, and ceiling and floor cracks, have inspired the imaginations of fans of the film.
The movie tells the story of a woman who comes to live in her ancestor's haunted house and encounters a series of strange events. Since the film's premiere in July, people have been keen to see the two legendary three-story French Baroque-style mansions.
The Beijing Patriotic Catholic Association that owns the mansions has locked the gates and hammered planks on the first-floor windows because people were trying to break in. The association also put up a notice on the gate saying that the mansions are in poor shape and have nothing to do with the movie.
"Many people say they're haunted houses, but I think they're talking rubbish. These are just two historical buildings that failed to be protected. They seem to be dangerous and deserve to be preserved," says Zhou Yang, 29, a self-employed woman from Beijing. She used to live close to the mansions. "It's such a waste to have two spare buildings in this area, where the housing prices are incredibly high."