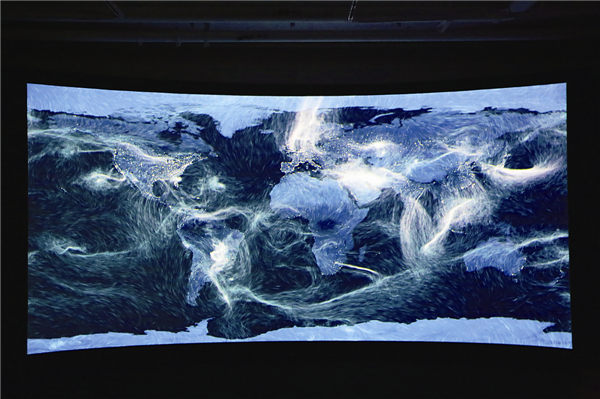 Calligraphic swirls: Maurice Benayoun's Emotion Winds (2014) maps emotions as they flow on the internet. Photos by Judith huang / Shanghai Star
Walking through the new exhibition at K11 Art Mall is a surreal and transformative experience. Judith Huang reports.
K11 Art Mall's Metamorphosis of the Virtual digital art exhibition has transformed the basement of the mall into a dark warren punctuated with works by 10 French and Chinese artists who use cutting edge technology. Lit only by the artworks themselves, walking through the exhibition is a surreal experience, like going through a cave illuminated by jewels, or turning down a dark corridor and meeting a ghost.
The opening piece is Miguel Chevalier's The Origin of the World (2014), an immersive, curving screen that engulfs the viewer in a shifting sea of psychedelic shapes. Evoking single-celled organisms dividing and multiplying, the surging music and stunning colors work together to make you feel as though you were present at the dawn of creation.
A wave of color breaks over a clustered shape, before melting into digital noise. Moving closer and faster makes the sounds and images accelerate, whereas moving away brings out strains of more plaintive music. This seamless interactivity seems to gift the viewer with God-like powers at the scene of creation.
From the beginning of the world, we are next plunged into its end. Tsang Kin Wah's The Fourth Seal (2010) is a projection of sentence fragments that slither across the floor beneath your feet, taken from the Biblical book of Revelation. Beginning with just a single fragment winding its way across the floor, this melancholic work leads the viewer to contemplate fear, mortality and the end of the world as more and more words snake their way across the floor.
Finally, an overwhelming deluge of words swirl in ever-expanding circles and at greater and greater speeds, before becoming engulfed once again by darkness. The dry, slithering sounds add to the impression that you are stepping on a nest of benign but foreboding snakes.