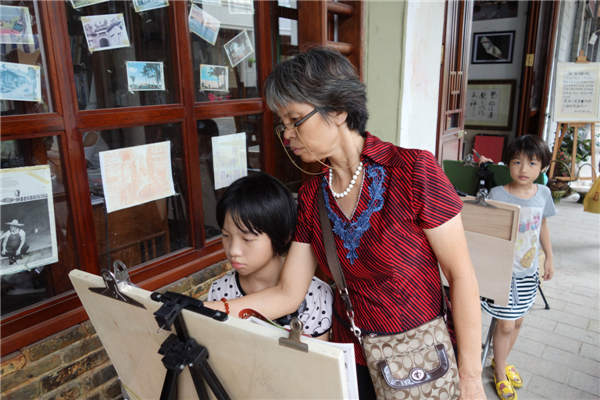 Young students learn charcoal art from Han Cuiqiong at her workshop in Haikou, Hainan province. Photos by Huang Yiming / China Daily
Making traditional portraits is not only a family business, it symbolizes a way of life for old Haikou. Han Cuiqiong is determined to stop it from slipping away in the rush toward modernity, as Raymond Zhou and Huang Yiming find out in Haikou.
In an age when photographs can be taken and zapped around the world in an instant, it seems antiquated to spend hours or days polishing a portrait.
But Han Cuiqiong, 60, never wavers in her evaluation of the unique art form known as charcoal sketching. She has spent 40 years honing it.
When the local government of Haikou, capital city of Hainan province, restored the old commercial hub of Zhongshan Road and turned it into a pedestrian-only street with boutiques and cafes but kept the old signage intact on the walls, it invited Han to move in. As an enticement, it waived her rent.
Han's presence adds a touch of local color. In the old days before photography became popular, people relied on charcoal sketching for portraits of family members, especially those who passed away. In the mid-1980s, there were as many as two dozen charcoal painters in this neighborhood. "We could produce 30 or 40 portraits a month," she recalls. "But nowadays it has dwindled to just a few."
Unlike Western sketch artists active in tourist hotspots, the kind of charcoal art Han specializes in does not require the object to sit for the session. "We generally rely on photos," she explains. And it takes two or three days to finish one portrait, and much longer if the client requires color instead of the usual black and white.
Sometimes, not even a photo is available as a reference. Han once had a customer from Taiwan who asked for a portrait of his mother, but all he could produce was a photograph of one of his maternal uncles. He described to Han the similarities and differences between the two, and she eventually sketched a charcoal portrait to his satisfaction.