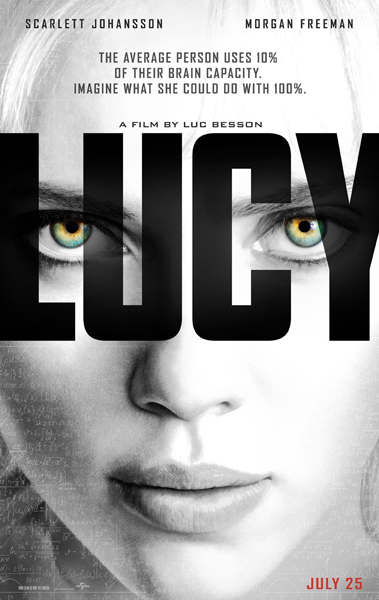 A poster of "Lucy" [Photo/Mtime.com]
Luc Besson's new sci-fi thriller "Lucy" may be laden with car chases and fight scenes, but the French director underlined the
movie
's "philosophical" side when addressing the press in Taipei on Tuesday.
Besson, whose blockbusters include "Leon" and "The Fifth Element," said he wanted to make an action thriller with a philosophical message, and the question he wanted to answer was: when we have power, what do we do with it?
"The only thing you can really do with power is to pass it on," Besson said, using an analogy of cells to elaborate his thoughts on the subject.
"The cells in our body die everyday, and they pass what they know to other cells. The movement of just passing it on is the only movement that matters," he said.
The film stars Hollywood actress Scarlett Johansson as an ordinary college girl who ingests a drug that unlocks the full potential of her brain, giving her superhuman powers.
Besson, who wrote the screenplay himself, was inspired by the notion that the average person uses only 10 percent of the brain's cognitive powers. Intensely involved in brain research in France, he started work on the script 10 years ago.
He chose a female character to lead the film because he wanted a fragile figure to enhance the contrast, he said.
It is like a lottery story, Besson explained. "The story about a rich man who wins the lotto is not interesting. But if you take one of the poorest and she wins a lottery, that's interesting."
The film was shot mostly in Taipei, which Besson called "very photogenic."
The landmark Taipei 101 skyscraper provides a reference to the location and the old buildings look good as well. He also gave a thumbs up for the friendliness of the city's residents.
Lucy will be screening in Taiwan Wednesday before hitting theaters in the Chinese mainland in September. It topped the North America box office on release.