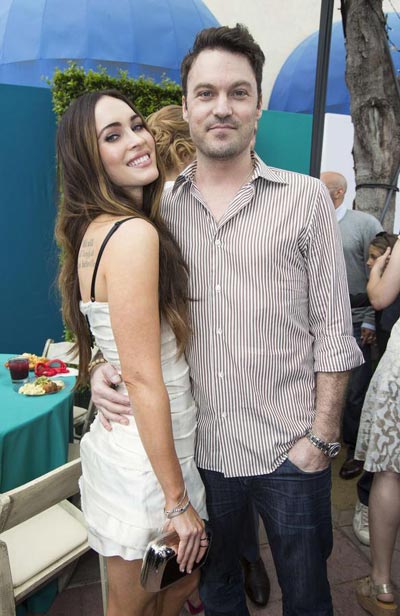 Cast member Megan Fox poses with her husband Brian Austin Green at a block party following the premiere of "Teenage Mutant Ninja Turtles" in Los Angeles, California August 3, 2014. [Photo/Agencies]
"Teenage Mutant Ninja Turtles" broke out in a big way on the weekend with $65 million, outpacing last weekend's winning film "Guardians of the Galaxy."
The Paramount's high-profile franchise re-launch had been widely expected to be in a close battle with "Guardians of the Galaxy" for the top spot last weekend. But it ultimately won the box office race, delivering the fourth largest opening weekend performance ever in the month of August.
The film opened a massive 168 percent stronger than the $24.26 million debut of its 2007 version, and has already out-grossed the $54.15 million final domestic gross of that film.
"Guardians of the Galaxy" held up well to the second with an estimated $41.53 million, down 56 percent from last weekend's break-out debut. With a total box office of over $175 million since its debut on Aug 1, the film is expected to become the highest grossing release of 2014 domestically.
Warner's "Into the Storm" debuted in third with an estimated $18.02 million. The modestly budgeted disaster film opened 74 percent stronger than the $10.34 million launch of its fellow disaster film "Pompeii" earlier this year.
"The Hundred-Foot Journey" also opened in line with its modest expectations this weekend, with an estimated fourth place debut of $11.12 million. The drama from Disney and DreamWorks received a strong A rating on CinemaScore, and is expected to hold up well throughout the month of August.