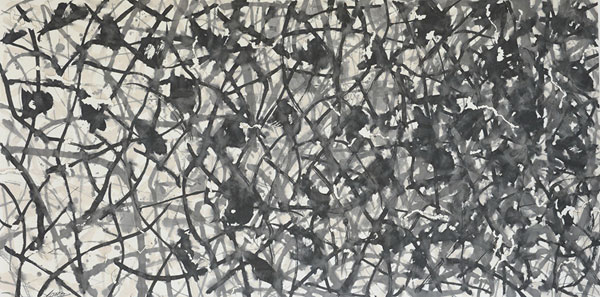 One of Chinese artist Bai Ming's ink paintings that are on display at the Musee Cernuschi in Paris.
A Chinese artist's flirtation with oil paint, ceramics and ink has been a deft exercise to avoid being pigeon-holed, he tells Lin Qi.
A solo exhibition is meant to showcase one's artistic achievements. Chinese artist Bai Ming, however, views his individual show now on display in Paris as a channel to share with the viewers his confusion throughout his career. The 49-year-old's debut at the Musee Cernuschi (or the Museum of the Asian Arts of Paris), with a display of 41 works, is dedicated to his three-decade explorations in three mediums: oil paint, ceramics and ink.
"I work with different artistic forms to escape and relax. When I get stuck with one art, I turn to the other for salvation," says Bai, an associate professor of ceramic design with Beijing-based Tsinghua University.
When he finds painting too limited in space, he tries to extend the sense of space by burning small holes on the paper, which led to the birth of his Cultural Worm Hole series. He reshapes traditional ceramic vessels to enrich the possibilities of space, for example, he is inspired by the sculpting of Taihu rock in ceramic-making.
"I paint ink-and-wash works because I don't want to be too conventional. I paint oil paintings because I don't want to be too Western. I create ceramic works because I don't want to be too technical."
Only four other Chinese artists have held solo exhibitions at the Musee Cernuschi, including Zao Wou-ki (1920-2013), Zhang Daqian (1899-1983), Lin Fengmian (1900-91) and the latest, Wu Guanzhong (1919-2010) whose show was staged 21 years ago.
Born in the 1960s, Bai says his generation grew up amid more confusion than others. The older generations, he says, do not receive as much information as they do, which means precedent artists are "simple and loyal to certain styles", and they are "not easily seduced by varieties of choice".