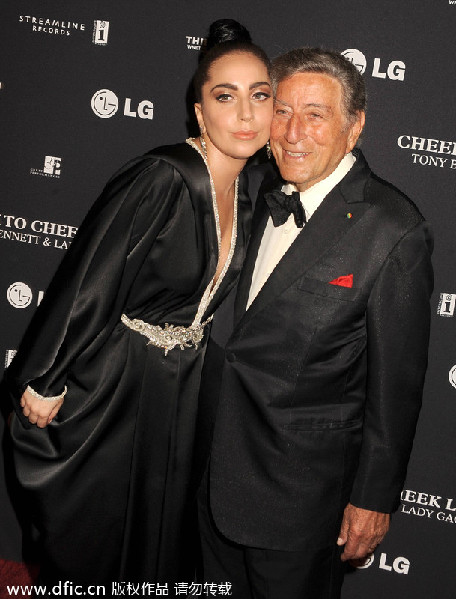 Lady Gaga and Tony Bennett [Photo/IC]
Lady Gaga and Tony Bennett have recorded an album of jazz standards called "Cheek to Cheek," which comes out this fall.
While Lady Gaga is a bonafide pop star, the singer says jazz comes more naturally:
"Jazz comes a little more comfortable for me than pop music, than R&B music. I've sang jazz since I was 13 years old."
Gaga made the comments with Bennett by her side ahead of the duo's taped performance at Jazz at Lincoln Concert in New York City.
The 28-year-old and 87-year-old Bennett first collaborated on his Grammy-winning, platinum-selling 2011 album, "Duets II."
Bennett says fans will be impressed with Gaga's vocal performance on the upcoming album.
"She's a natural, she sings the way I sing. We change every night."
"Cheek to Cheek" is Gaga's first release since last year's "Artpop".
Bennett released a collaborative album with Latin singers in 2012 called "Viva Duets."